DECEMBER 2018
|
KINNEARS ROPE WORKS — BALLARAT ROAD, FOOTSCRAY, VICTORIA

|

AUSTRALIA
Lovell Chen's work on the first stage of the Kinnears Rope Works project is coming to a conclusion with the base-building adaptation and conservation of the former factory's Building 14, due for completion this month. The Kinnears site is large, and is being developed in four stages by R&F Property Australia. Our focus is on the conservation and adaptation of the retained heritage-listed structures that are grouped in a precinct at the heart of the development.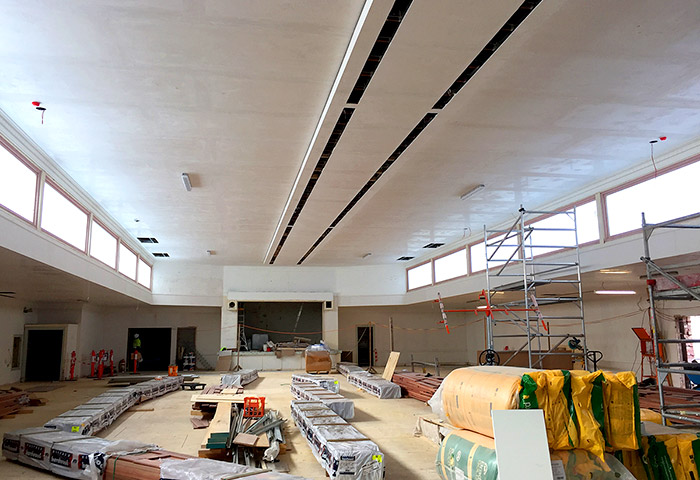 Former mess hall / ballroom, Building 14 [ photo: Lovell Chen ]
Building 14 is a two-storey red brick pre-war building that once housed a rope dispensary with mess hall above. It is the first of the site's structures to be adapted for reuse. We are bringing the building to pre-fitout condition, as well as undertaking some external works. Its upper dining hall was once the centre of social activity at Kinnears and features a small stage, complete with rope-framed proscenium. The wide column-free space was home to the Kinnears Annual Ball.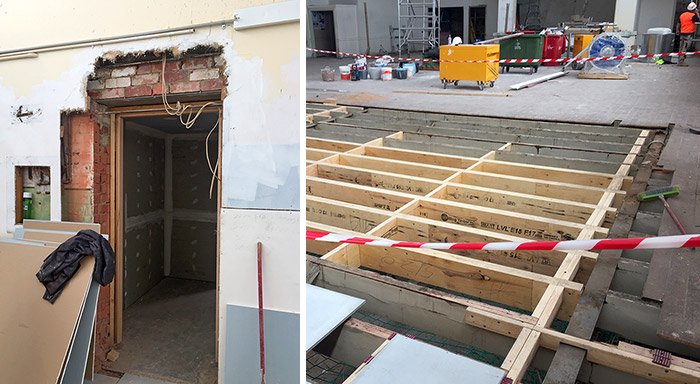 Discoveries and floor works in the mess hall [ photos: Lovell Chen ]
Kinnears is a heavily altered industrial site, with a somewhat disjointed set of buildings that accumulated over time (1900s to 1960s). Working on them is a process of discovery. The mess hall original fit-out dates from the 1940s but its wall linings were found to be framed off an earlier scheme, which must be post-1934, as Building 14 doesn't appear in photos of that date. Elements of earlier buildings and infilled redundant openings are embedded in the fabric, reflecting the constant changes made to meet specific machinery and manufacturing requirements. As part of the preparations for adaptation, load tests were carried out on existing timber joists and structural elements.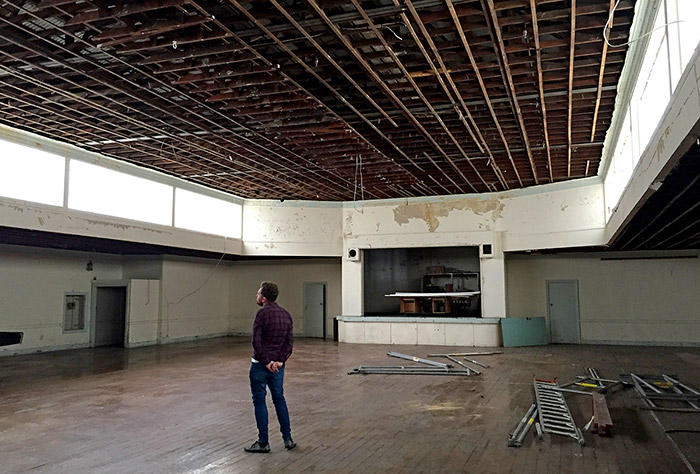 Mess hall before commencement of works [ photo: Lovell Chen ]
The mess hall is a dramatic room with an unusual roof arrangement. We have reinstated its lantern windows, which are suspended from the A-frame truss roof structure, and flood the hall with light.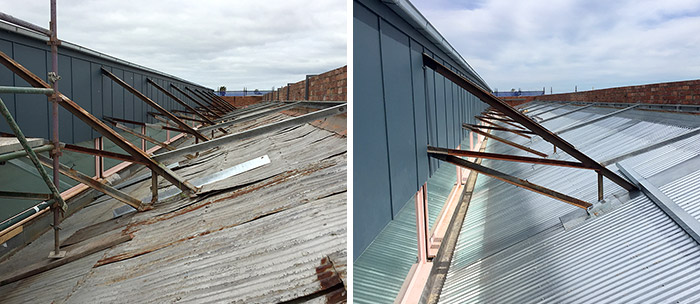 The mess hall trusses are external above the skillions. Note seismic strengthening, connecting trusses to parapets. [ photos: Lovell Chen ]
The skillion roofs that flank the hall slope inwards from extended brick parapets. For seismic strengthening, extra steel members have been added to the hall's lightweight angle-section roof trusses.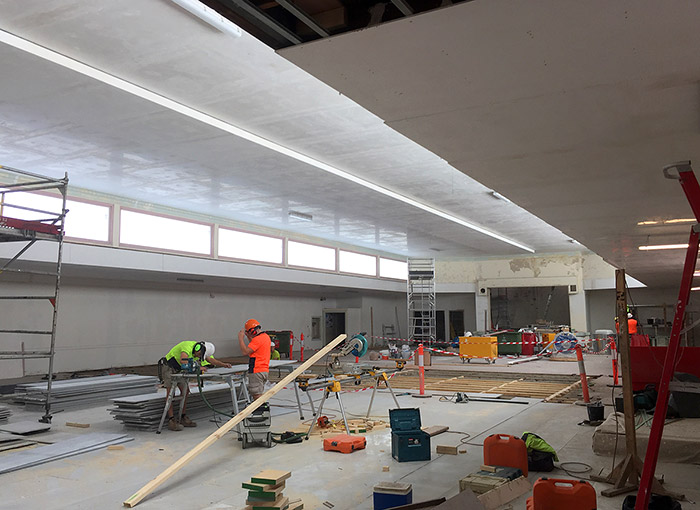 Plasterglass installation [ photo: Lovell Chen ]
The walls and ceiling were lined out in fibrous plasterboard, which is no longer available. To achieve a similar super-flat finish, plasterglass is being used — an unusual technique. Plasterglass consists of firbreglass mixed into plaster to form a sheet. The joints are hand-filled, and the whole surface polished prior to painting.


Laneway before and after demolition works [ photos: Lovell Chen ]
Building B14 flanks the laneway that was once the main entrance to the factory complex on Ballarat Road, Footscray. A lavatory block was constructed over the laneway at some point, and this have been demolished to open up a new area.
Lovell Chen has been working on various aspects of the Kinnears site for many years. In 2015, we completed an conservation management plan. For the current project, we are appointed to provide conservation works for all the retained buildings plus architectural design for the adaptation of Building 14. Pre-start heritage permit condition work (whole site) included recording and a photographic record, an interpretation plan, an oral history and a machinery audit.
Stage one includes a high-rise residential tower designed by Peddle Thorp Architects. Landscape design is by Rush Wright Associates.