We look for passionate, focused people to join our dedicated teams working on the delivery of creative new architecture, the adaptation of heritage structures, conservation and restoration projects, master plans, heritage studies, interpretation work and the provision of heritage advice.
WHY JOIN LOVELL CHEN?
Lovell Chen offers the chance to work with some of the best minds in their fields in the country, on groundbreaking projects that are helping shape the physical environment and regulatory control regimes. From Passive House design to meticulous restoration work, heritage policy development to strategy planning for major sites — the possibilities are many and varied. Our team includes talented support staff, including office management, graphic design and knowledge services specialists.
— Team members are from a wide range of culturally diverse backgrounds, with a broad mix of skills
— We work in a friendly, open plan office: the work is serious — but we have fun too!
— The senior staff are accessible to all
— Our CPD programmes can help broaden your abilities in architecture, conservation or heritage
— We assist our registered architects to reach their CPD requirements, and we run CPD programmes in all relevant fields
— In some circumstances, we support further academic studies
You can also explore the nation's heritage footprint, inside and out! Many of our staff are engaged in on-site activities. In addition, we hold regular events, lectures, excursions, etc., providing the chance to participate in the cultural life of the wider community.

APPLICATIONS
Applications for listed vacancies, as well as general careers enquiries, should be addressed to our Practice Manager (see below). Your application should include your CV and a covering letter outlining your experience, as well as your contact details. Please do not send more than five A4 sheets. Video submissions are accepted.
We regret that we cannot reply to every application received.
Send your documentation to:
Practice Manager, Lovell Chen : practicemanager@lovellchen.com.au
Lovell Chen is proud to be an equal opportunity employer — we actively promote an inclusive workplace culture and encourage people from diverse cultural backgrounds and Aboriginal and Torres Strait Islanders to apply.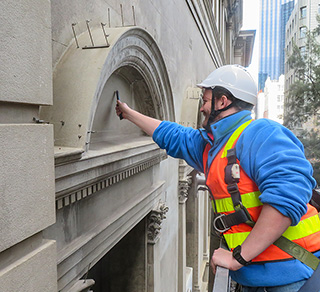 Owen Evans Good
Architecture and Conservation team
Owen is an architecture intern — working a four day week while he completes his masters degree. In about a year, he will join us full time. He loves the design side of architecture but in first year at university, it was the history subjects that he felt to be most fruitful. He started to wonder if he could combine the two … by working in conservation, perhaps.
In Lovell Chen he feels he found a great balance between design and heritage: "Lovell Chen has an optimistic approach to both fields, and a way of navigating that space — recontextualising the principles of an original building design and bringing it into the modern world."
As it happens, Owen's father works in remedial construction and has worked alongside Lovell Chen on facade restoration projects. So when our name came up during his studies, he was familiar with it. When it came time to arrange an internship, he already knew that the practice was his first choice.
"As far as hands-on experience and practical knowledge goes, and a real understanding of how the industry works, Lovell Chen is the best position for an intern." (Now we're blushing!) He says, "I feel very lucky".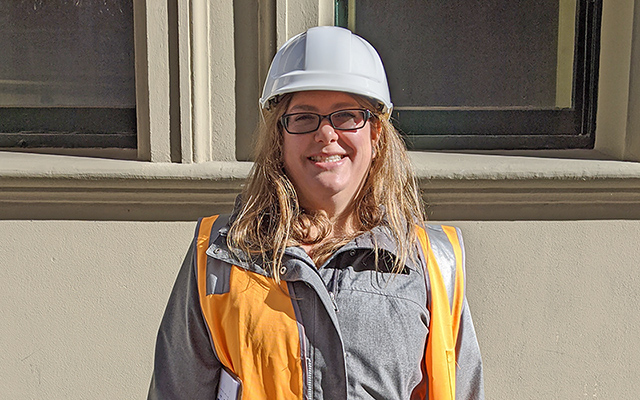 Candice Keeling
Heritage team
Sometimes a career can take a winding path. Candice, who works in our heritage team, started out studying architecture, then conservation. Sounds straightforward but she was born in South Africa (SA), on the outskirts of the relatively young city of Johannesburg, where conservation work isn't really a possible career choice. She enrolled in a multidisciplinary course in Belgium, post grad. Private practice in architecture followed, but a trip to Australia to attend a friend's wedding led to her falling in love with Melbourne.
Of her early life, she says, "When I was little, I was in awe of Johannesburg's buildings. I fell in love with South African Art Deco". Later she realised that her European studies gave her experience in international law relating to heritage — and SA law is largely based on UNESCO guidelines and the Burra Charter — giving her a head start in Australia. And fate had a hand: "The person next to me on the plane to Australia had a friend in heritage. I already knew about Lovell Chen but this connection resulted in an interview".
"It's the variety of type of projects that draws me — every level and size." Does she miss architectural design? Well, no: "My work intersects with the design side … reviewing and making assessments. Lovell Chen is the right path for me".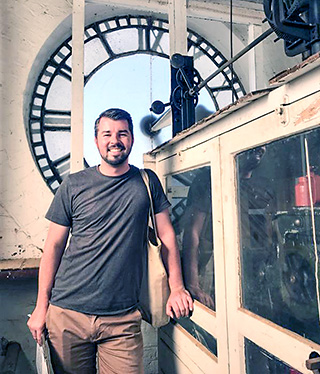 Maxwell Bracher
Architecture and Conservation team
Max is very clear. There are two reasons why working at Lovell Chen appeals to him. "In working with built heritage, we inspect and analyse historic fabric in very close detail. It's such an effective way to learn about the process and sequence of construction." The second reason touches on his self-confessed nostalgic streak — feeling that he is contributing to the ongoing story of a building, being part of a continuum and playing a part in the bigger picture.
Now a registered architect, he was always interested in heritage. He pinpoints the the moment a maths teacher at primary school taught him perspective drawing as the genesis of this, inspiring him to draw old hotels and country town corner shops.
He encountered Lovell Chen at university, when Peter Lovell and Anne-Marie Treweeke came to talk about the Old Quad project. Attracted by the varying scales and types of project we work on, he decided it was the place to be. "Lovell Chen seemed to have an innate connection to Melbourne and Australia's heritage."
Within a week of his interview, he was offered a casual position and within 12 months he was working full time. That was four years ago. He's now a vital part of the continuum!