We look for passionate, focused people to join our dedicated teams working on the delivery of creative new architecture, the adaptation of heritage structures, conservation and restoration projects, master plans, heritage studies, interpretation work and the provision of heritage advice.
WHY JOIN LOVELL CHEN?
Lovell Chen offers the chance to work with some of the best minds in their fields in the country, on groundbreaking projects that are helping shape the physical environment and regulatory control regimes. From Passive House design to meticulous restoration work, heritage policy development to strategy planning for major sites — the possibilities are many and varied. Our team includes talented support staff, including office management, graphic design and knowledge services specialists.
— Team members are from a wide range of culturally diverse backgrounds, with a broad mix of skills
— We work in a friendly, open plan office: the work is serious — but we have fun too!
— The senior staff are accessible to all
— Our CPD programmes can help broaden your abilities in architecture, conservation or heritage
— We assist our registered architects to reach their CPD requirements, and we run CPD programmes in all relevant fields
— In some circumstances, we support further academic studies
You can also explore the nation's heritage footprint, inside and out! Many of our staff are engaged in on-site activities. In addition, we hold regular events, lectures, excursions, etc., providing the chance to participate in the cultural life of the wider community.

APPLICATIONS
Applications for listed vacancies, as well as general careers enquiries, should be addressed to our Practice Manager (see below). Your application should include your CV and a covering letter outlining your experience, as well as your contact details. Please do not send more than five A4 sheets. Video submissions are accepted.
We regret that we cannot reply to every application received.
Send your documentation to:
Practice Manager, Lovell Chen : practicemanager@lovellchen.com.au
Lovell Chen is an equal opportunities employer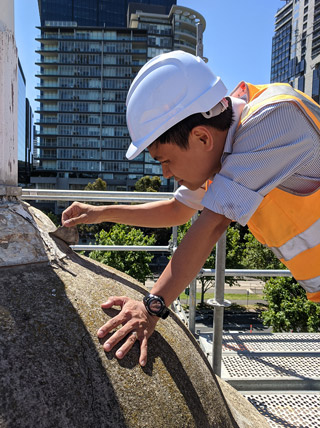 Duong Tran
Architecture and Conservation team
It was his marine engineer father who spotted Duong's potential for a career as an architect, after watching his young son making drawings … lots of drawings. Duong grew up in Vietnam, moved to Singapore for his main architectural training, then chose Australia as the best place to settle with his own growing family. He was offered architectural work but decided to try something new with Lovell Chen. Fast forward to 2019 and Duong is now an experienced associate, working on conservation and adaptation projects.
If you ask him about the practice, his immediate response is … "The people are friendly. And there's a great mix of things going on, which makes it more fun. I also really like it that the workload of each person is looked at and adjusted. It's considerate management."
Of the future he says, "I've really loved what I've been doing — learning the basis of traditional Australian construction — but I'm equally interested in the new architecture side. It's what drew me to Lovell Chen: fitting something new into the old. I plan to do more of that."