Solidarity Hall and the Workers' Museum
JANUARY 2020
|
TRADES HALL — VICTORIA STREET, CARLTON, VICTORIA

|

AUSTRALIA
The Victorian Trades Hall Council celebrated the opening of Solidarity Hall and the Workers' Museum at Melbourne's Trades Hall in late December, with the Premier of Victoria, Daniel Andrews, in attendance — and Lovell Chen!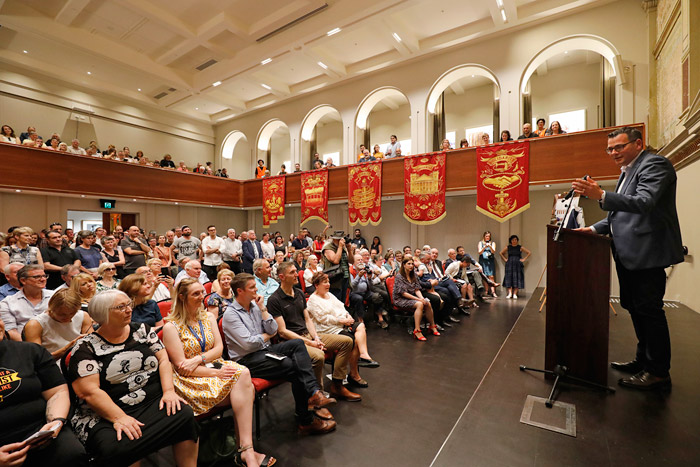 [ Premier of Victoria, Rt. Hon. Daniel Andrews MP, addresses union members ]
The focus of the ongoing conservation, refurbishment and adaptation project at the Trades Hall is primarily on bringing the community into the building and helping make it relevant to the traditional users and community at large. It is one of the world's oldest trade union buildings, and is located on the site of trade unionism's home in Victoria since 1859. Union members turned out in force to take part in the opening celebrations and explore the re-planned public spaces, and newly installed display vitrines, completed in the first phase of the project.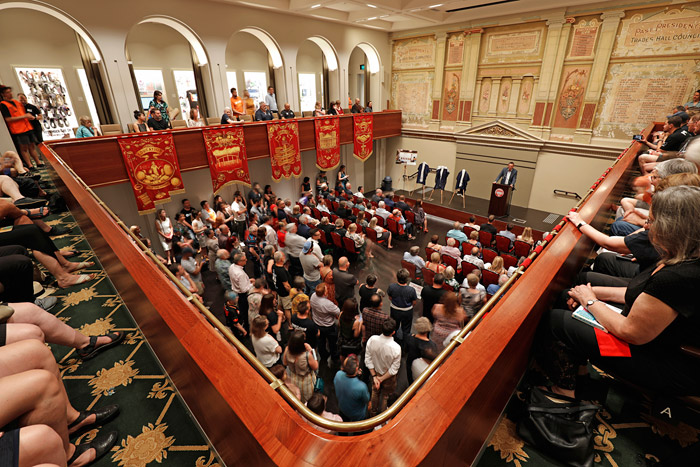 [ Solidarity Hall : back to its original orientation and debating chamber proportions ]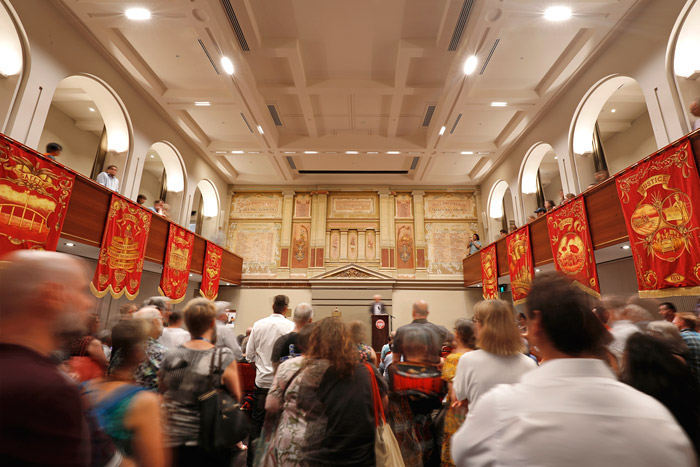 [ The mural on the north wall is all that remains of the original decorative scheme ]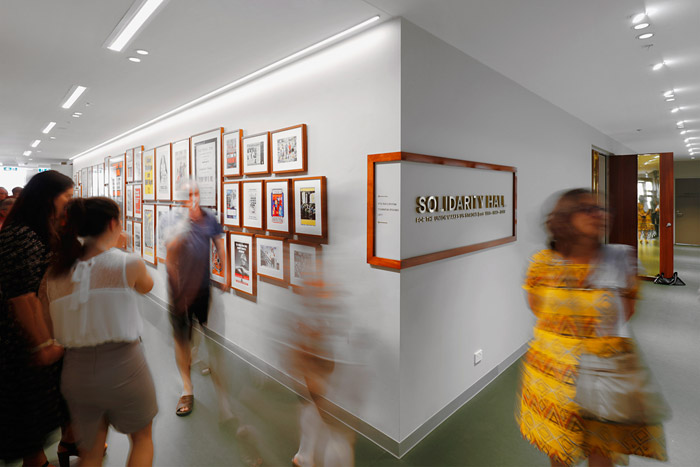 [ The main public circulation places have been re-planned ]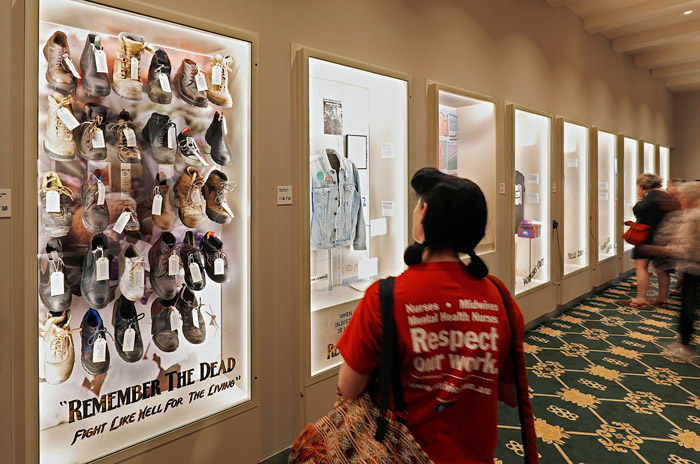 [ Vitrines in the balcony arcades of the Hall house the Worker's Museum ]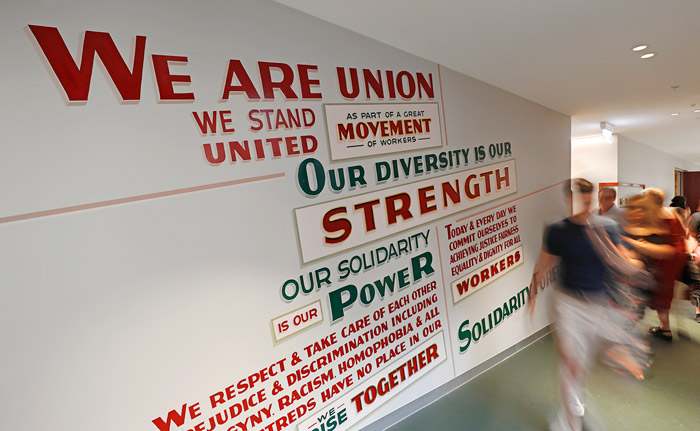 The photos (above and below) show the four main public-use rooms — Old Council Chamber, New Council Chamber (Solidarity Hall), Old Ballroom and New Ballroom (ETU Ballroom). Each required tailored responses to conservation, as well as building services upgrades and disability compliance measures. In the case of Solidarity Hall, its orientation has been returned to the original layout and classical debating chamber proportions. The spectacular mural now visible is the remains of the original decorative scheme, most of which was lost to fire in the 1960s.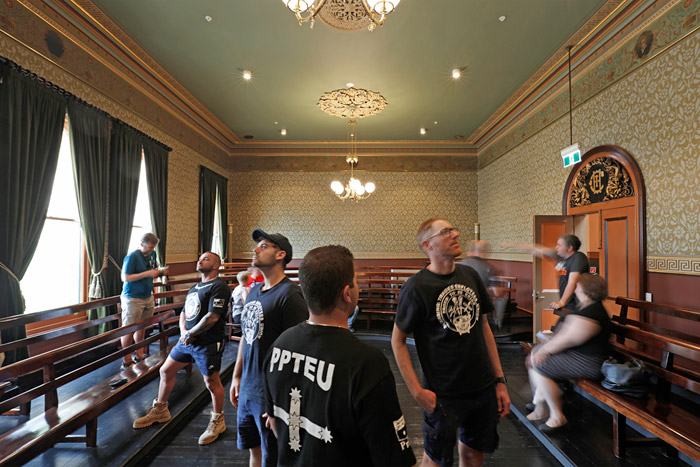 [ Union members study the restored decorative scheme in the Old Council Chamber ]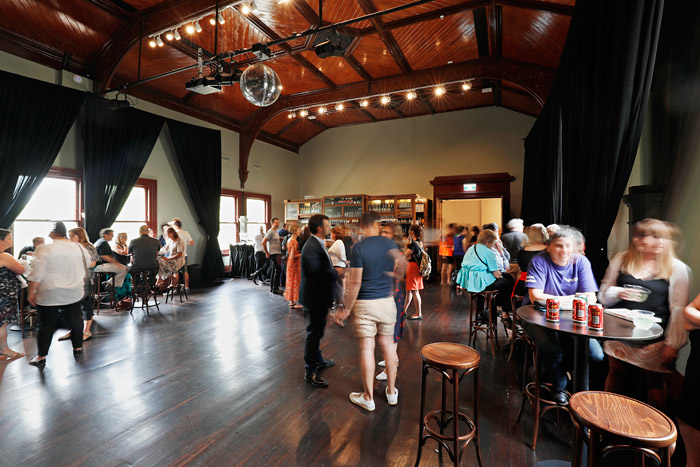 [ The Old Ballroom, now the new home of the Fringe Festival organisers ]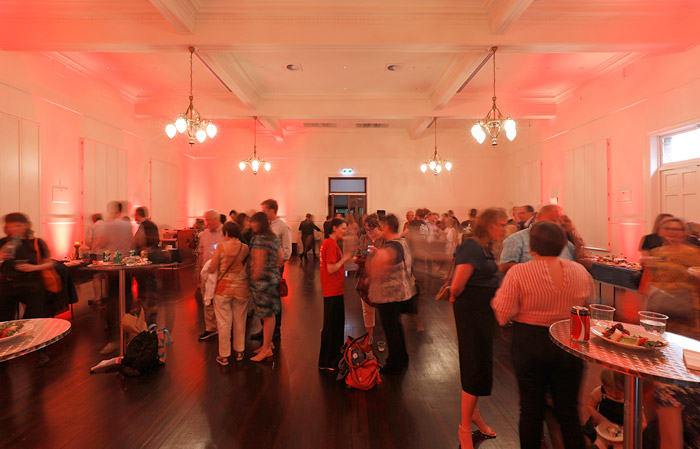 [ Celebrations continued in the refurbished ETU Ballroom ]
With the support of a grant from the government's Living Heritage Program, and Victorian Trades Hall Council's own funds, and individual union contributions, works to the key public spaces, portico and roof have been completed. To improve openness and accessibility, the circulation scheme has been replanned, with a central lift as a pivot point.
[ photos: Peter Glenane ]