SEPTEMBER 2020
|
717 FLINDERS STREET, MELBOURNE

|

AUSTRALIA
Lovell Chen architect and associate Duong Tran reports that the exterior and interior works to the Mission to Seamen building on Flinders Street, Melbourne, are nearing completion. To celebrate, we present some great new photographs taken by Sarah Louise Jackson.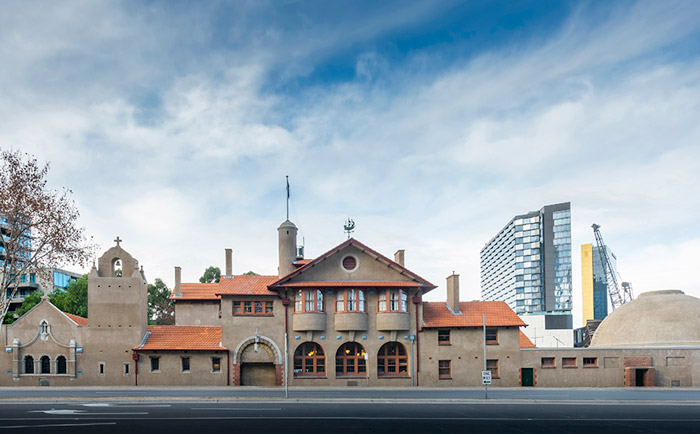 [ Mission to Seamen, Flinders Street, Melbourne, photo : Sarah Louise Jackson ]
The Mission to Seamen building (constructed 1916-19), which is the home of the Mission to Seafarers organisation, is a much-loved landmark in the city. It's certainly one of Duong's favourites … "I feel connected to it as my father was a seafarer for most of his life. For a long time, he subscribed to the Mission to Seafarers' magazine, Flying Angel News."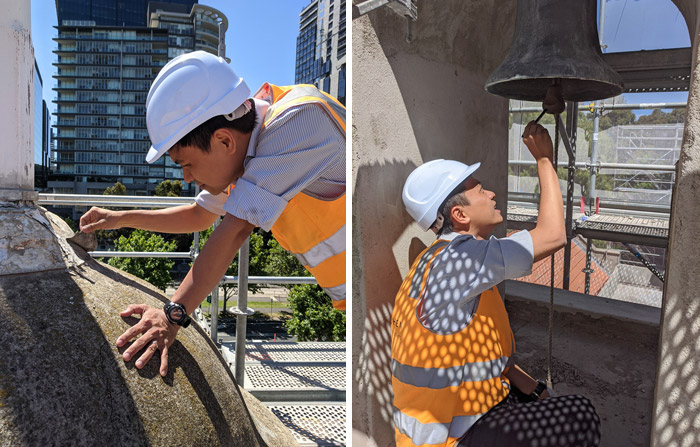 [ Duong Tran on site last year at Mission to Seamen, photos : Lovell Chen ]
The complex is made up of five sections: a chapel, the main building, the chaplain's residence, the caretaker's residence and the former Norla Gymnasium, which was accommodated under a concrete dome at the west end of the site.
One of the first tasks was to investigate the source of extensive cracks in the external render. However, most of the building seems not to have moved much in the last 20 years. The cracks have been attributed to differential movement between different structural materials, such as brick against concrete. In the repair work, the mesh underlying the render has been repaired like-for-like, and the render patch repaired and replaced in some places — with rigorous attention paid to matching the three types of textured render found on the walls.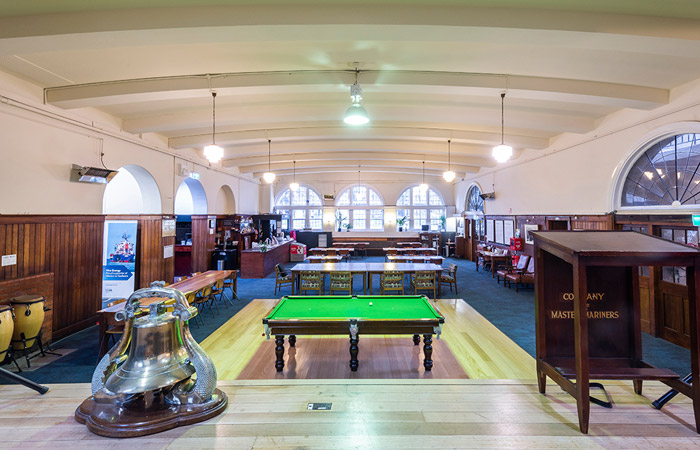 [ The main hall from the stage, photo : Sarah Louise Jackson ]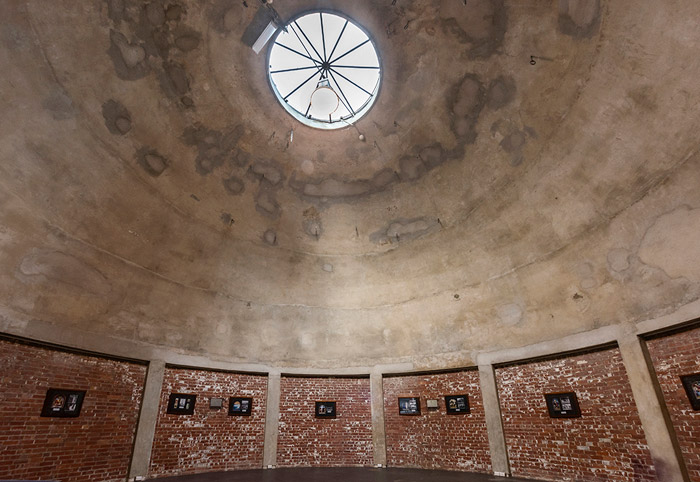 [ The interior of the former Norla Gymnasium, photo : Sarah Louise Jackson ]
Investigations in the bell tower uncovered a more serious issue. Steel reinforcement bars at the foot of the tower were found to have rusted severely, requiring splicing with new reinforcement. As Duong says, "The tower turned out to be structurally unsound, which nobody knew at the outset".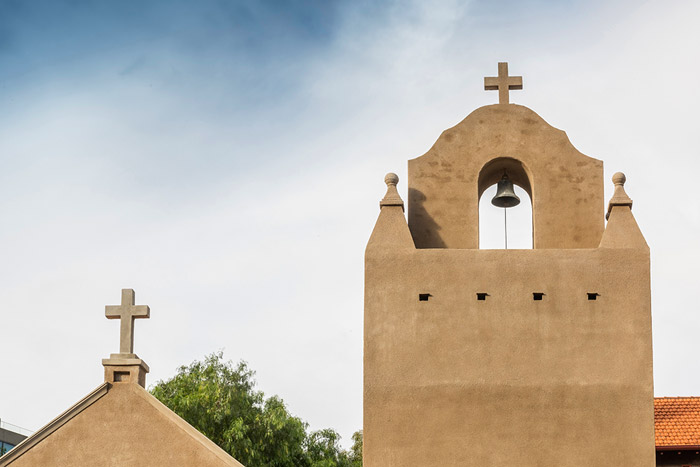 [ Replacement pressed-cement orbs and cross on the belfry and chapel, photo : Sarah Louise Jackson ]
Other notable works include re-stumping, main hall floor replacement, leadlight repair in the chapel and hall, the manufacture of replacement pressed-cement decorative orbs and a cross for the bell tower and chapel, door hardware upgrades and detailed joinery work. For the dome, the waterproof membrane has been replaced, concrete spalling repaired and an anti-graffiti coating applied to the exterior.
The gymnasium dome always sparks people's interest. It has uncanny acoustic properties inside: if you stand in the middle and speak, you cannot hear anyone else in the room reply to you — possibly the result of accumulated super-amplified echos, as the rest of the room is quite echo-y.
For more on the Mission to Seamen building, see our project page.