Good works in local churches
MARCH 2015
|
ANGLICAN CHURCHES — IN MELBOURNE AND RURAL VICTORIA

|

AUSTRALIA
We are working on a number of Anglican churches in Melbourne and rural Victoria, tackling many aspects of their conservation and repair. Our work includes the preparation of condition reports, supervising repairs to stonework and concrete, reinstating decorative finishes and repairing roofs.
Parish councils face challenges in the funding of maintenance and restoration works: budgets can be limited. We often revisit projects to undertake new phases as finance becomes available.
Church projects currently underway include:
St Mary's, North Melbourne
St Mary's is a Gothic Revival building (1860) in bluestone with a plastered interior. Phased works have included roof replacement and repairs, stonework repairs, stormwater upgrading, interior decorative scheme investigation, plaster repairs, partial decorative scheme restoration, and most recently, the implementation of an interior lighting scheme.
St John's, Toorak, Melbourne
In the Melbourne suburb of Toorak, we have been working on the restoration of the stone cladding on the west wall of the chancel of St John's (begun 1860, William Wardell). In a further phase, movement in the north wall will be investigated before restoration of its stonework. Past phases have included interior plaster works, painting and lighting.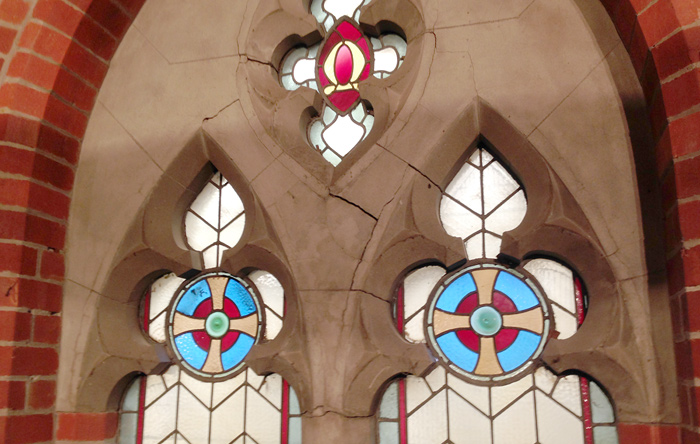 [ photo: St Peter's, Eastern Hill, by Lovell Chen ]
St Peter's, Eastern Hill, Melbourne
At St Peter's Eastern Hill we have been investigating movement in the south wall of the church and in the parish hall, which seems to be an old issue connected with tree growth and water saturation. Repairs have been made to the reinforced concrete window panels in the hall, which led to the discovery that the reinforcement used there resembles the Kahn Reinforcing System used in the dome of the State Library of Victoria. St Peter's is one of the earliest churches in Melbourne and the complex has undergone many exterior changes.
St Paul's, Clunes, Victoria
We are investigating the condition of St Paul's (1871, Thomas Austin) at Clunes, north of Ballarat, looking closely at repairs needed to the roof of the bluestone building. The church has been closed for a while, with limited services held in the adjacent church hall, and the congregation is keen to see it conserved and re-opened.