OCTOBER 2018
|
BENDIGO, VICTORIA

|

AUSTRALIA
The lovely people that bring you Open House Melbourne every year have branched out … Open House Bendigo takes place on the weekend of 27+28 October this year. The programme has been announced and it's time to start planning.
Our project to extend the Bendigo Soldiers' Memorial Institute, as well as complete conservation works to the 1921 building, will open on the Sunday for guided tours led by Lovell Chen's Milica Tumbas. The building's official opening is not until mid November, so it's your chance to get a sneak preview: booking required.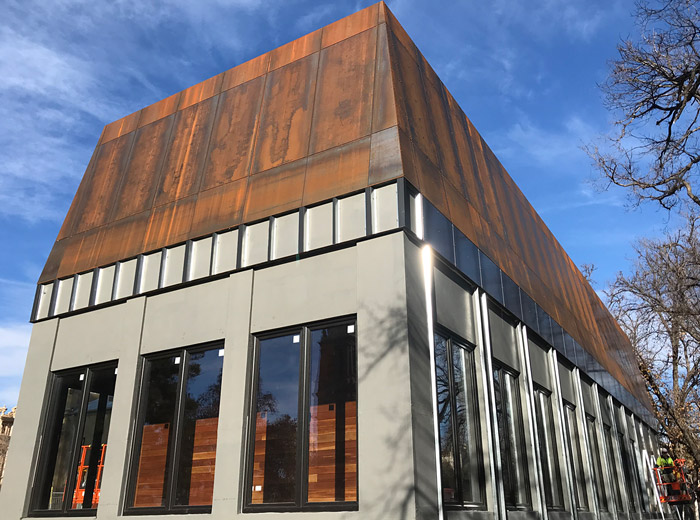 The new extension to Bendigo Soldiers' Memorial Institute — a glimpse of the inner timber-lined circulation space before the steel screen was installed
[ photo: Lovell Chen ]
The extension nestles behind the earlier building, and is designed to house items borrowed from the national collections under museum-quality environmental controls. It takes the form of a highly insulated, air tight inner building inside a ventilated space, in turn enclosed by a perforated weathered steel screen. The design follows Passive House principles, which we are increasingly using as standard in our approach to sustainability. Milica is a certified Passive House designer and will be able to answer all your questions.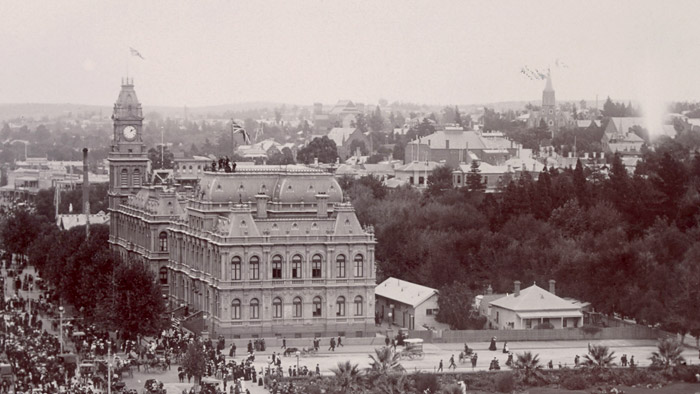 1905 view of Bendigo by Robert Scott, showing the Law Courts and Post Office
[ photo: courtesy State Library of Victoria ]
Other projects we have worked on in Bendigo that are in the programme include Bendigo Law Courts (1896), for which we recently prepared a conservation management plan. We also recently completed conservation works to the Alexandra Fountain (1881) on Pall Mall at Charing Cross.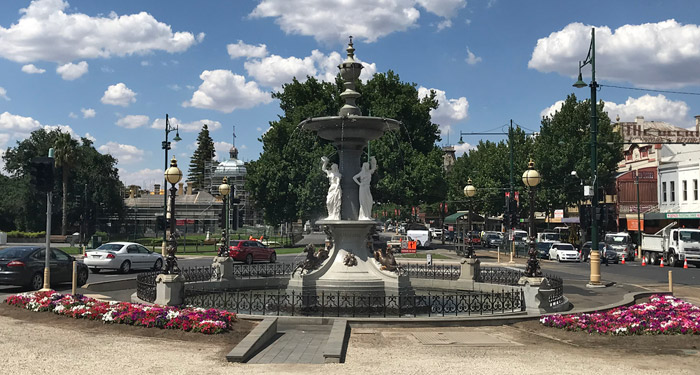 The restored Alexandra Fountain, with the Soldiers' Memorial Institute in the background
[ photo: Lovell Chen ]
Our heritage team has worked on several large-scale projects for Bendigo. In 2012 we prepared a Greater Bendigo Thematic Environmental History for the city council, with the aim of providing a comprehensive overview of the history and development of the city through its buildings and landscapes — identifying its distinctiveness, and how physical and historical forces have shaped the community, connecting its past, present and future.
In a more locality-specific report completed the following year, we looked at a 22 sq km area covering north-eastern zones. The White Hills & East Bendigo Heritage Study identified places of potential heritage interest and resulted a protective planning scheme amendment.
Bendigo is only 90 minutes from Melbourne by train … and well worth a visit!
www.openhousemelbourne.org/bendigo/
Lovell Chen is a Practice Partner for Open House Melbourne