Flinders Street heritage wall at Melbourne Quarter
FEBRUARY 2021
|
FLINDERS STREET, MELBOURNE

|

AUSTRALIA
On the north side of Flinders Street, west of Spencer Street in Melbourne's Docklands, runs a high 1890s brick retaining wall, some 220m in length. Not particularly distinguished, perhaps — but significant … very significant, not least because its presence indicates the southern edge of what was Batman's Hill, settled by John Batman in 1836, just a year after the founding of the city.
The wall is now the southern boundary of the new Melbourne Quarter development, and we have been overseeing strengthening and conservation works.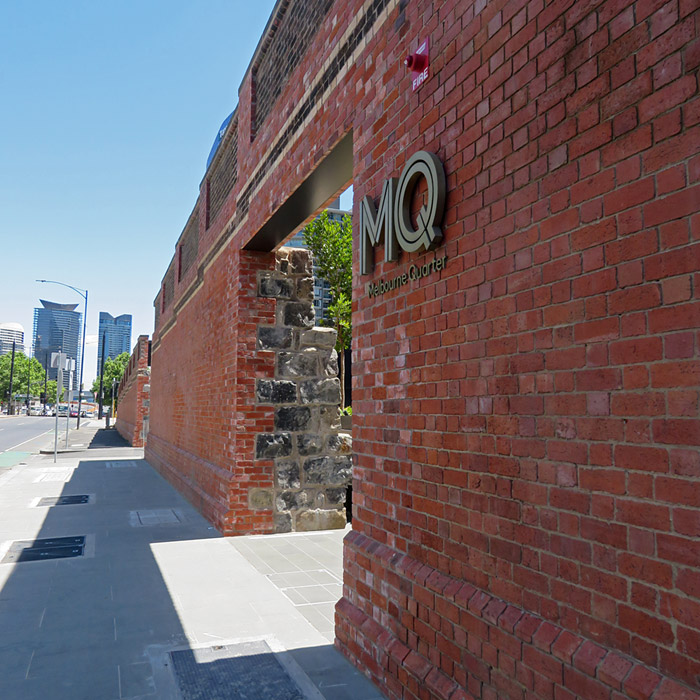 [ The now freestanding heritage wall, photo : Lovell Chen ]
Batman's Hill was some 18m high and stood out in the surrounding land, running down to the River Yarra. It was important to the people of the Kulin nation, who had used it ceremonially, and was used by the colonists as a datum point for the first topographical survey of the area. Later it would be the site of the colony's first horserace. However, by the 1850s, the hill was overlooking riverside industrial development. It was bisected by a gas main, and a railway terminus was constructed to the north. Batman's cottage was demolished in the 1860s, and railway expansion led to levelling of the hill. Though little of it remained by the time Flinders Street was extended into Docklands, a retaining wall was still necessary.
The wall was constructed in 1890 by the Victorian Railways. Approximately 3m high at each end, it rises in steps to some 5.7m in the middle, and is constructed in red brick with yellow and brown banding and recessed panels in brown. The building of Lend Lease's East Tower (Melbourne Quarter, architect: Fender Katsalidis) included excavation on the north side of the wall, leaving it freestanding. This revealed that the buried parts had been constructed in bluestone, stepped along the wall's length and about 2m deep at the widest points. Engineer Robert Bird Group designed a strengthening system of inserted reinforcing rods and grout injection, and the bluestone has been repointed.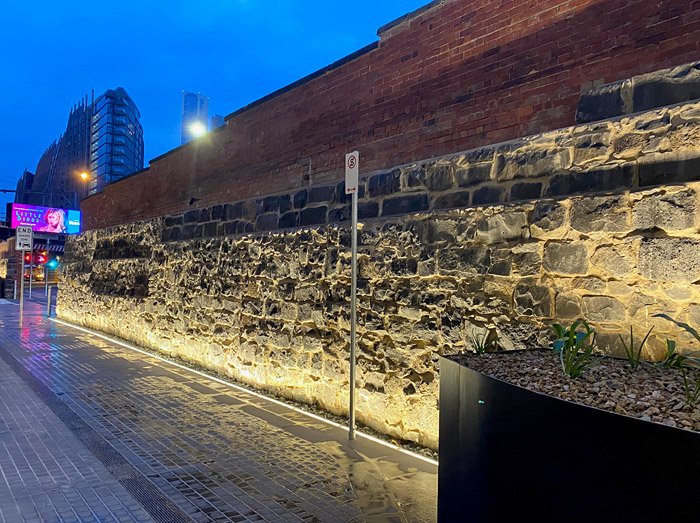 [ The once-hidden side of the wall, photo : Nathan Marriner ]
The eastern end of the wall is still on railway land where it runs under the Flinders Street viaduct. For Development Victoria, a full-height opening has been created for access to a substation and railway assets. In all, three new permanent openings were required — plus reuse of an existing pedestrian opening — and these neatly reveal the section profile. We developed a bold keyed detail for the intersection of the two types of masonry.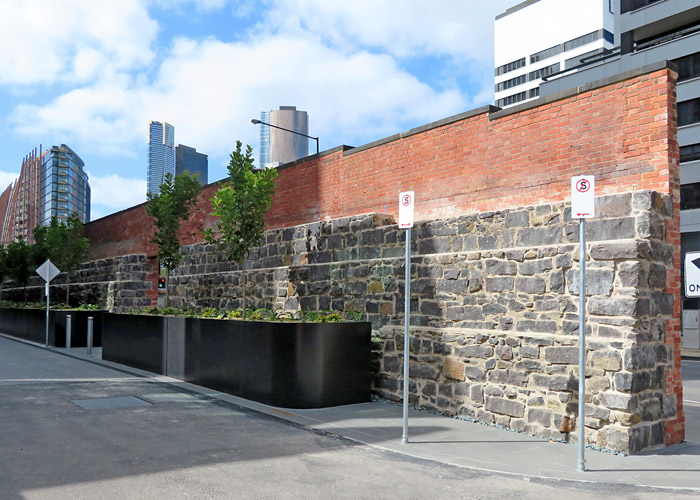 [ photo : Lovell Chen ]
Our services for this project include management of the heritage approvals process, conservation works for the full length of the wall, strengthening and documentation of the new openings, and site interpretation.