City of Melbourne Heritage Review
APRIL 2017
|
CITY OF MELBOURNE, VICTORIA

|

AUSTRALIA
The City of Melbourne has placed its draft Heritage Policies Review on public exhibition, and is inviting submissions before 12th May. Melbourne City Council has also organised a drop-in community information session for Saturday 22nd April, at Melbourne Town Hall.
Review documents, plus feedback and session information, are available at participate.melbourne.vic.gov.au/AmendmentC258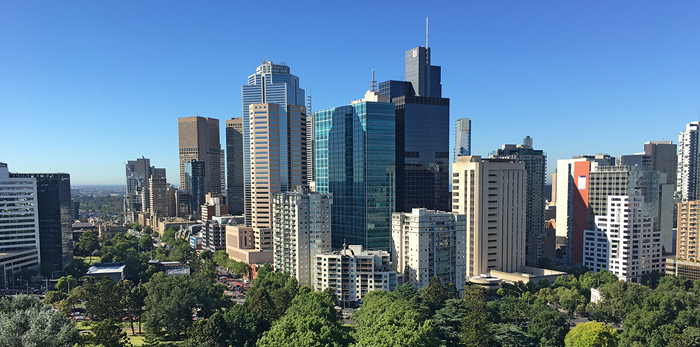 [ Eastern end of Melbourne's CBD, looking south, photo: Lovell Chen ]
We began work on the Review in 2015, starting with an update of the City's two existing heritage planning scheme policies, one for the Capital City Zone (CCZ) and the other for areas outside the CCZ. We then prepared statements of significance for the precincts outside the CCZ, which did not have statements in place — Carlton, East Melbourne and Jolimont, North and West Melbourne, South Yarra, Kensington and Parkville.
For the third component, we provided advice on how the Council's alpha gradings (A, B, etc.) for heritage properties could transfer to the contemporary system that uses 'significant' and 'contributory'. Lovell Chen subsequently reviewed graded properties in the City's heritage precincts in and outside the CCZ .
The project included two phases of community consultation, in April/May 2015 by Capire Consulting Group, and in January 2016. As well as the policies and statements, Lovell Chen's methodology reports for the policy review and for the gradings review are available. The Heritage Policies Review forms one part of Amendment C258 to the City's Planning Scheme.