Flinders Street Station wins conservation award
JULY 2019
|
MELBOURNE, VICTORIA

|

AUSTRALIA
Celebrations in the office at the announcement on 28 June that the project to strengthen and conserve the exterior of Melbourne's Flinders Street Station has won an Architecture Award for conservation in the AIA Victorian Architecture Awards 2019. Well done to everyone on the wider project team — well-deserved recognition for the expertise, passion and determination of all the people involved.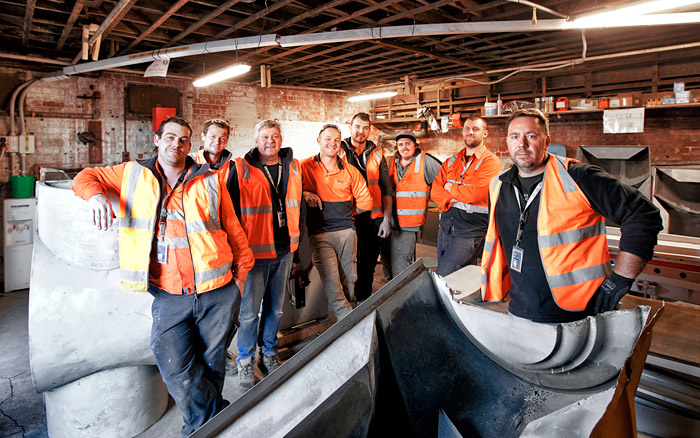 [ Some of the hugely dedicated tradespeople who worked on the project, photo : Peter Glenane ]
We are very pleased that the award citation acknowledges that, "This project is particularly notable for the heritage outcomes that benefit both the profession and the community at large … The huge scale of this complex has resulted in broader outcomes … with the resultant specialised trade skills training that occurred on site in the traditional trades."
The Flinders Street Station facade strengthening and conservation project is the first phase of a Development Victoria revitalisation project. The huge complex remained operational throughout the State Government-funded works, which focused on the immediate need to make the building watertight, improve its structural stability and prevent further deterioration — as well as conserving and refurbishing the fabric, including the clock tower. For a full description of the project, see Flinders Street Station.
The wider project team included main contractor Built and structural engineer Bonacci Group.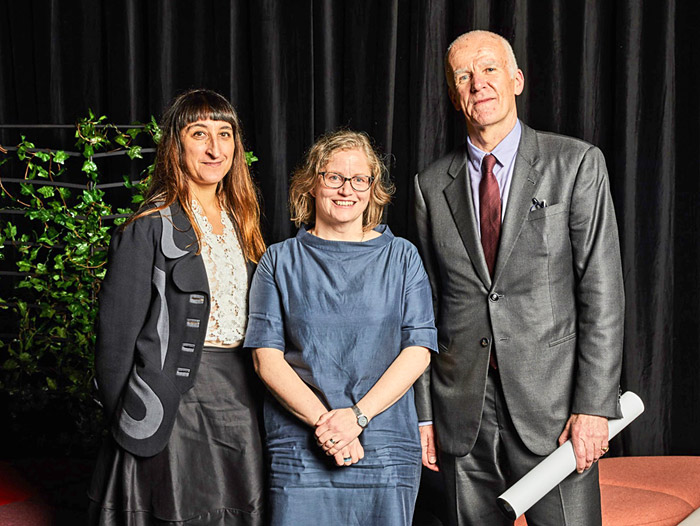 [ Suzanne Zahra, Deirdre Heffernan and Peter Lovell at the AIA Awards dinner, photo : Lillie Thompson, AIA commission ]
The AIA Victorian Architecture Awards 2019 were announced at a presentation dinner in Docklands, and Lovell Chen's Deirdre Heffernan, Peter Lovell and Suzanne Zahra were on hand to receive the conservation award on behalf of the whole team.
More on Flinders Street Station >
AIA Victorian Architecture Awards 2019 >