Federation Square management plan
JUNE 2020
|
CNR SWANSTON AND FLINDERS STREETS, MELBOURNE

|

AUSTRALIA
As an architectural ensemble, Melbourne's Federation Square is a place with few precedents — formal or conceptual. We have been working on a management framework for it that combines conservation management with the design principles used by the architect, LAB Architecture Studio. The principles are particularly intriguing as they incorporate change and variety … not aspects that usually underpin guidance for heritage listed places.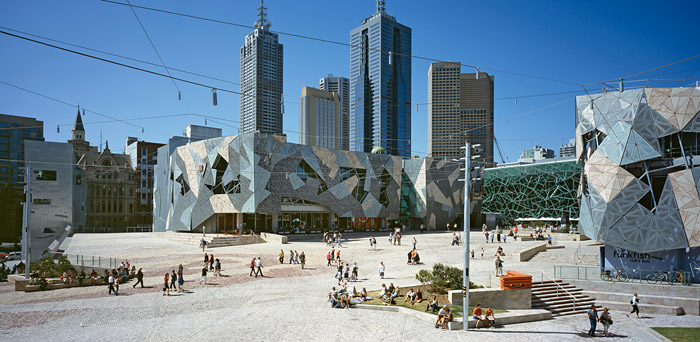 [ image: Looking north east across Federation Square, Melbourne : courtesy Federation Square Pty Ltd ]
The design of the Square is the outcome of a theoretical and speculative approach to architectural production by its two architects: Donald Bates and Peter Davidson. They rejected classical ordering systems in favour of engagement with the complexities of 21st century urban environments. They also developed ways to express the idea of federation. For example, the fractal facade system is derived from a single element that can be applied in an infinite number of sequences at multiple scales to achieve variety within a coherent whole, a reference to the presence of multiple and diverse regional identities in a single nation.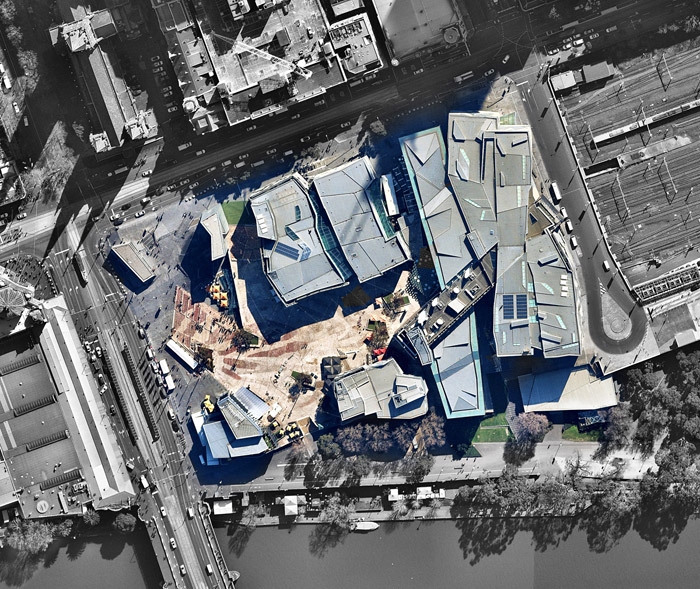 [ image: Federation Square, Melbourne : courtesy Federation Square Pty Ltd ]
Working closely with Heritage Victoria and the Office of the Victorian Government Architect, we identified a series of considerations that were to shape the direction of the framework. A key consideration is the youthfulness of the Square — it was the first place in Australia completed in the 21st century to be managed under a statutory heritage regime — and this has implications, as it's still finding its way in terms of functions, social contexts and contextual physical connections.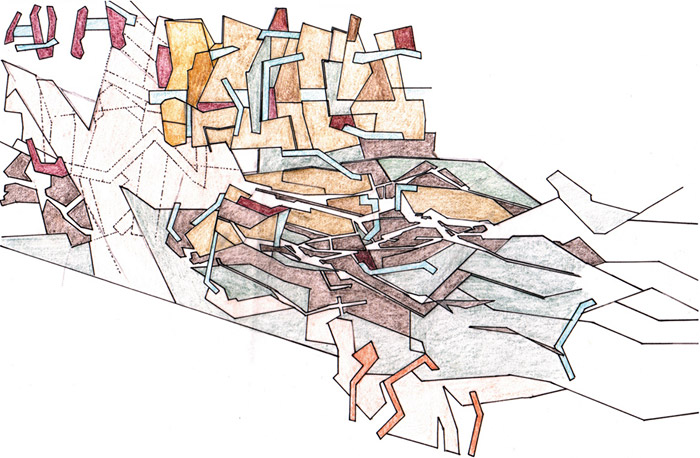 [ image: Development drawing, 1997 : courtesy LAB Architecture Studio collection, National Gallery of Victoria ]
There is also the speculative nature of its conception, design and construction. Some ideas did not work as intended, and more-effective technologies and materials may now be available. Significantly, a capacity for change is embedded in the rationale of the Square's design, so accommodating new and evolving operational requirements needs to be managed through the prism of that rationale.

[ image: Distorted tartan study, 1998 : courtesy LAB Architecture Studio collection, National Gallery of Victoria ]
The outcome of our work is a pair of documents: a conservation management plan and a statement of Design Principles. Together they form the framework for the management of the cultural values of Federation Square. As a happy consequence of the recent date of the project, it was possible to consult with the architects directly, and they are the co-authors of the Design Principles document. It makes fascinating reading.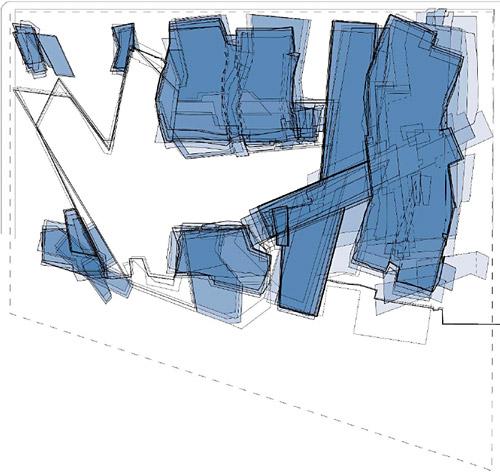 [ image: Diagrammatic representation of plan iterations, 1997-2001 : courtesy LAB Architecture Studio collection, National Gallery of Victoria ]
Like to know more?
Federation Square Pty Ltd is creating a series of podcasts based on the content of the Design Principles, which will be released on their website in July as part of Discover the Virtual Square … https://fedsquare.com
Federation Square was added to the Victorian Heritage Register in September 2019 and has been assessed as a place of historical, architectural, aesthetic and social value. It's an integrated complex of buildings and pedestrian connections, with an open air public plaza, and is home to a series of cultural institutions: the Ian Potter Centre (National Gallery of Victoria), the Australian Centre for the Moving Image (ACMI) and the Koorie Heritage Trust. The Square is raised on a structural deck over a major rail corridor, and was constructed in 1997-2004 (and it wasn't fully completed).