REB Eastern Forecourt Fountain restored
DECEMBER 2016
|
ROYAL EXHIBITION BUILDING — EASTERN FORECOURT, CARLTON GARDENS, MELBOURNE

|

AUSTRALIA
Close examination of several period photographs has made possible the restoration of the cast iron cap, finial and lion masks that originally topped the 1880 French Fountain in the Eastern Forecourt of the Royal Exhibition Building in Melbourne. The fountain and its basin have been refurbished as part of a water reticulation upgrade programme by Museum Victoria.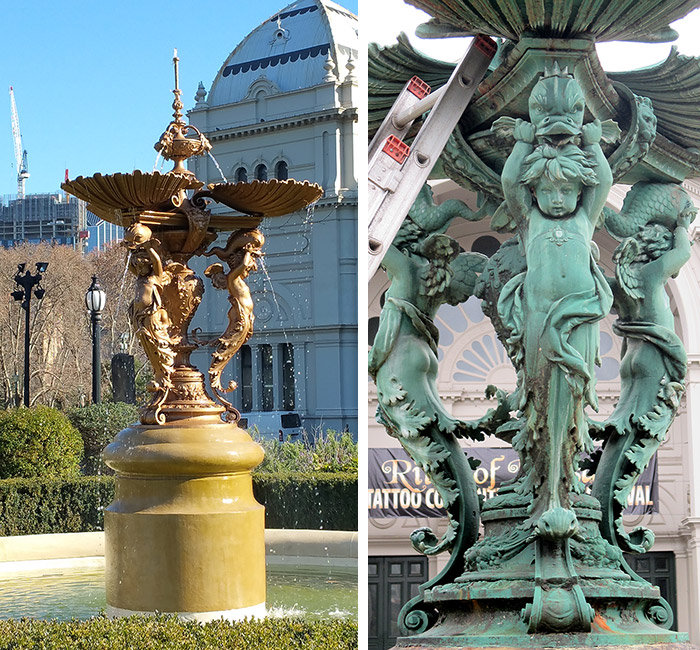 [ photos: Lovell Chen ]
Lovell Chen's conservation team used enlarged photographic details, as well as background knowledge, to work out the original design of the missing elements. The moulds for the three lion masks were made by local sculptor Adam Schofield and the casting done by Billman's Foundry, Ballarat. The cast iron fountain in its entirety has also been cleaned, refurbished and repainted.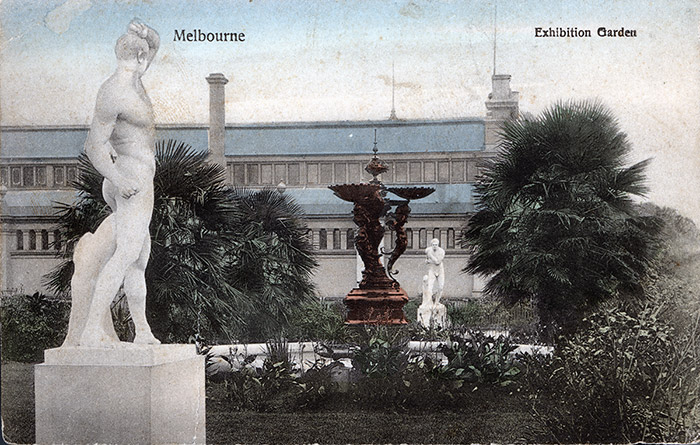 [ photo: postcard, courtesy State Library of Victoria ]
Depending on the city's water restriction status, the fountain had been in and out of use in recent times. To remedy this, the refurbishment works included the installation of a new water pump and connections. Repairs have been made to the rendered basin and pedestal, a new render wash coat applied to the basin exterior, and a new paint finish to the interior.