"… a poetry based in ethical practice"
MARCH 2021
|
ARCHITECTURE AUSTRALIA : MARCH/APRIL 2021

|

AUSTRALIA
Lovell Chen is in the spotlight this month with the publication by Architecture Australia of a profile of the practice — in the context of a special issue exploring the ways architects respond to "ever-changing contemporary needs within layered histories of built work".
The theme of the issue is New into Old: valuing context and memory in contemporary built works, and it explores aspects of the idea that, in a time of climate and environmental emergency, architects can and should be extending the life of the existing building stock.
The author of the profile, Peter Raisbeck — Senior Lecturer in Architectural Practice at Melbourne School of Design, the University of Melbourne — describes Lovell Chen as having "developed a compelling and radical practice model: the result of a complex interaction between ever-evolving expertise in design, masterplanning, heritage, conservation, construction and sustainability". He generously claims that the practice has "made subtle yet significant contributions to the theory of adaptive re-use practice".
Profile: Lovell Chen by Peter Raisbeck … download PDF (1.5Mb)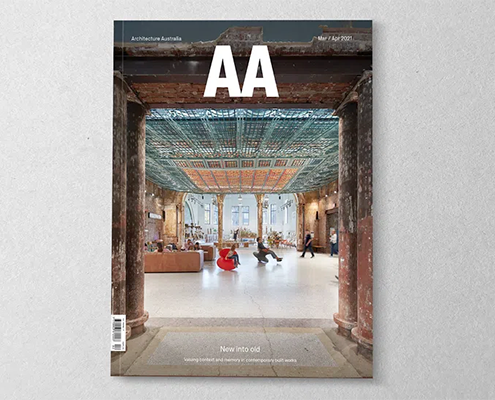 Originally published in
Architecture Australia Mar/Apr 2021
New into Old: valuing context and memory in contemporary built works
architectureau.com/magazines/architecture-australia/