OCTOBER 2021
|
MELBOURNE ROAD, NORLANE, GEELONG, VICTORIA

|

AUSTRALIA
The Ford Motor Company factory at Norlane — a suburb of Geelong — was established in 1925: the headquarters and manufacturing centre of the first major overseas car company to set up in Australia. It is also the first large factory in Victoria designed specifically for mass production using assembly lines.
Following a preliminary assessment for Ethos Urban, commercial facilities developer Pelligra is to adapt the buildings for new industrial uses and multiple tenancies. We were appointed to provide services for the heritage-registered parts of the complex, including a site survey and conservation works documentation for heritage permit submission, both of which are now complete.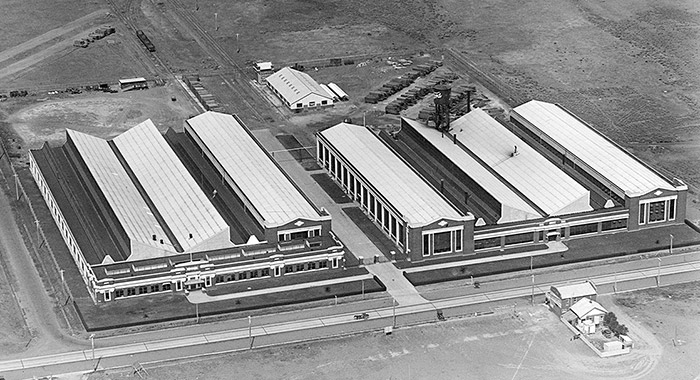 [ The Ford Motor Company complex at Norlane in 1935, photo : Ford Australia Archives ]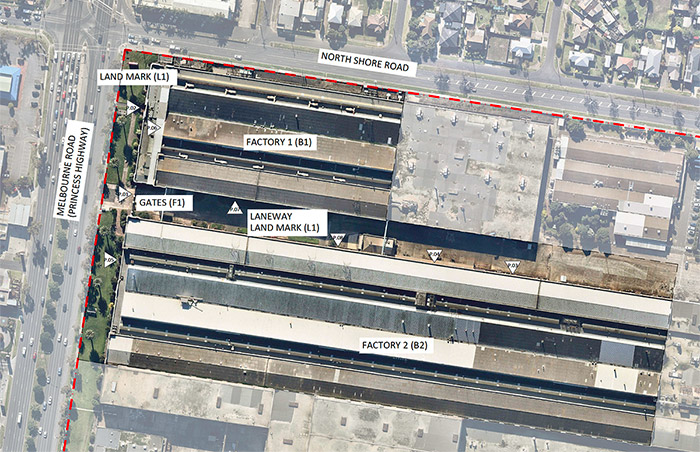 [ Aerial indicating the extent of the heritage-registered buildings ]
The earliest sections of the complex are located on the corner of Melbourne and North Shore roads, facing west. The heritage registration includes three elements: two large steel-frame buildings flanking a central driveway, and the original brick gate piers. The smaller of the buildings is B1, the original assembly and administrative building. It occupies the corner site, with B2 opposite housing the Body Building Division. The factories were subsequently extended many times, to the east and south. Manufacturing by Ford continued here up until 2016.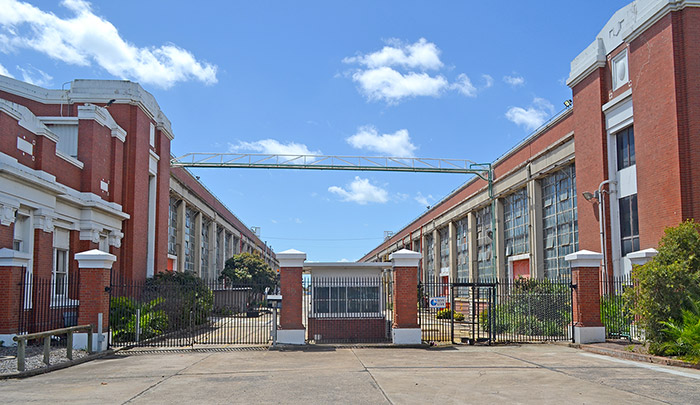 Both buildings were constructed in 1925-6, with Stripped Classical red brick and painted render facades facing Melbourne Road. The long side walls incorporate curtain walling — rendered concrete columns and lintels, and steel frame windows with brick panels below.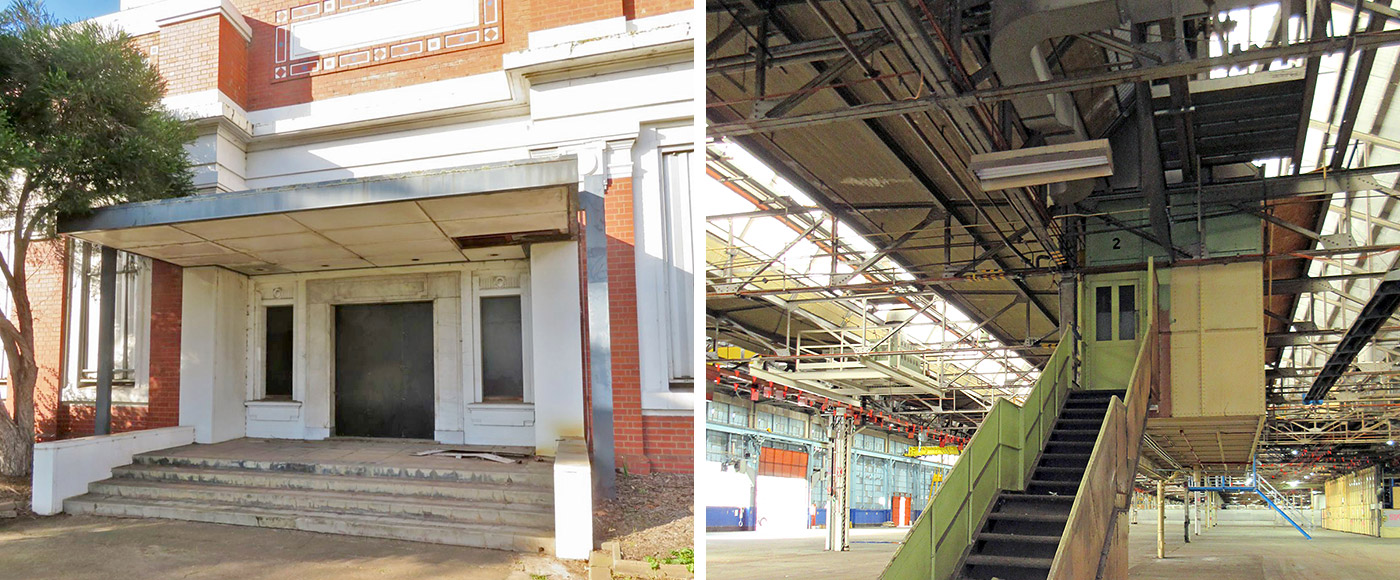 [ Main entrance with marble finishes, and suspended facilities on the factory floor, photos : Lovell Chen ]
The scope of conservation works documented includes crack repair to the brickwork, external painting, window repair and glass replacement where necessary, replacement of damaged roof sections and gutters, removal of redundant plant and concrete slab repair.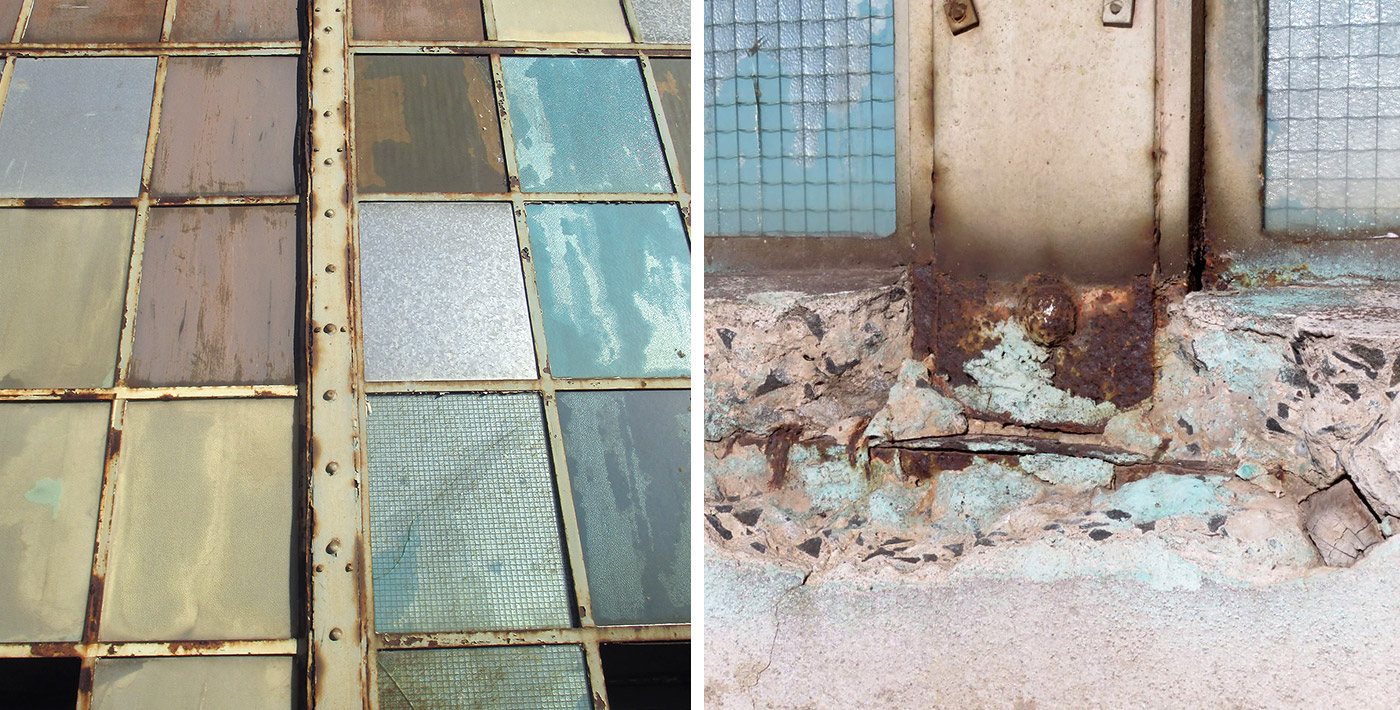 [ Curtain wall windows, and typical example of concrete spalling, photos : Lovell Chen ]
Ford Norlane is a relatively intact example of a large-scale Interwar industrial complex. Its long-span steel frame factory areas are flanked by craneway bays, and the skillion roof configuration is based on the then widespread contemporary Ford plant design — typical of the industrial design work of US architect Albert Khan. The steel was supplied by BHP.