Mosspennoch to be restored and adapted
JUNE 2016
|
MOSSPENNOCH HOUSE — CLARENDON STREET, EAST MELBOURNE, VICTORIA

|

AUSTRALIA
The 1881 mansion Mosspennoch House is being restored and adapted as apartments as part of a wider residential scheme by Cbus Property and Brookfield in joint partnership, with heritage and conservation services by Lovell Chen.

[ photo: archival photography by Hin Lim ]
Mosspennoch has had something of a chequered life. The original section of the house was designed by Charles Webb (1821-98) for Queens Council and MLA James Liddell Purves, who lived here until 1903. The ballroom was added in 1890. In the years that followed Purves' departure, Mosspennoch was used as a boarding house, converted into flats, occupied by the Australian Red Cross, adapted as medical suites and most recently, remained largely unoccupied for 20 years.

[ photo: archival photography by Hin Lim ]
Despite this, some beautiful original features remain, including high ceilings (5m high in the ballroom), decorative plasterwork and sections of wall panelling. These will be salvaged, restored and reinstated into the refurbished rooms of the existing fabric as part of the adaptation of the house into six large modern apartments. The main foyer and stair are to be reinstated to Victorian detail, while the second foyer will be contemporary in style.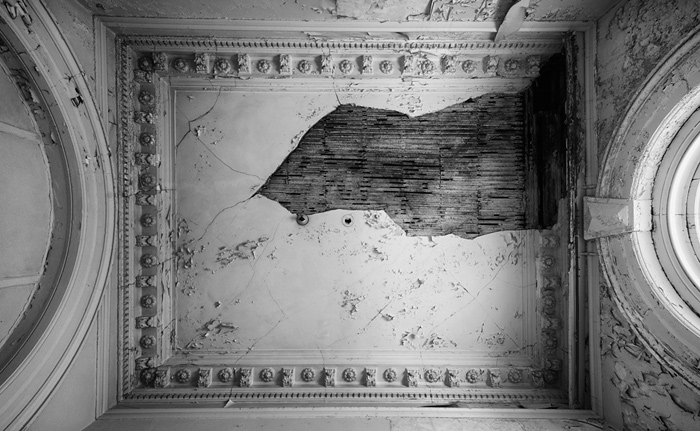 [ photo: archival photography by Hin Lim ]
Our services include an earlier conservation management plan, heritage advice, condition reports, approvals documentation, conservation works documentation and architectural design for the adaptation.
To the south, on the site of the former tennis court a boutique apartment block plus underground parking is to be constructed, all designed by Bates Smart.