West Block's hidden secret
MARCH 2019
|
COMMONWEALTH AVENUE, PARKES, ACT

|

AUSTRALIA
All kinds of buildings and structures cross our desks at Lovell Chen. Even so, a bomb shelter is pretty unusual. We have been working on the preparation of a heritage management plan (HMP) for West Block, or Secretariat No.2 as it was known, in Canberra's Parliamentary Triangle. Behind the block is an embankment with a 1942 air raid shelter built into it, now used as a substation. It's an important structure as it was Australia's communications hub between various Allied powers in World War II, specially adapted in 1945 for a British-made Typex cypher machine.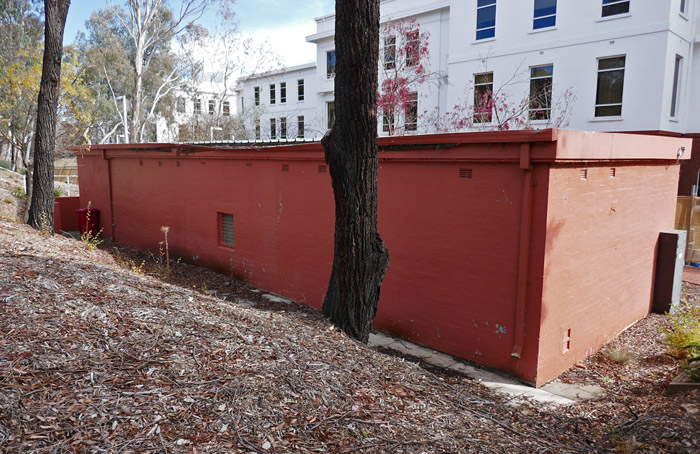 [ image: The Dugout, once an air raid shelter and vital communications hub : Lovell Chen ]
West Block was designed in 1925 by John Smith Murdoch (1862-1945), Chief Architect of the Commonwealth Department of Works and Railways. Its first three wings were completed by 1927, with a further wing added in 1944. Along with its companion East Block and the Provisional Parliament House (now Old Parliament House), West Block is part of the Parliament House Secretariat (PHS) group of buildings at the southern end of the Parliamentary Zone — the first buildings constructed in Canberra's Parliamentary Triangle, and all designed by Murdoch. The embankment behind West Block was a result of site levelling works in 1925-6.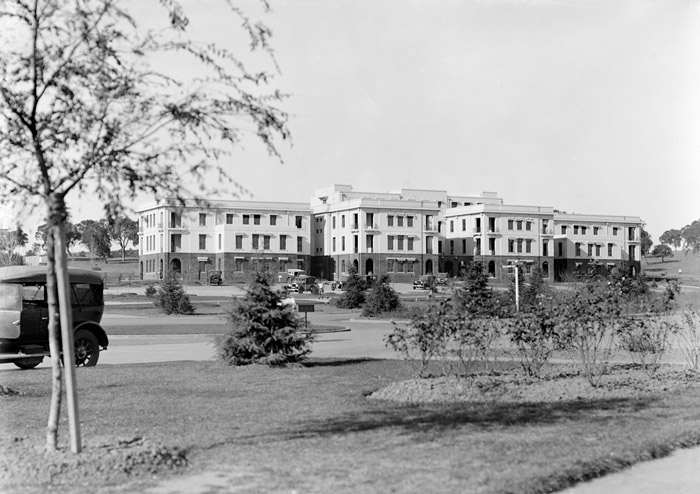 [ image: West Block : courtesy National Archives of Australia ]
The PHS group were first buildings purpose-built for Australia's new democratic government, which began with Federation in 1901. West Block's four three-storey buildings, connected on a north-south axis, accommodated government offices. The style Murdoch used is Stripped Classical — horizontal massing, symmetrical facades, vertical bay divisions, classical proportions and very little applied detail. Major changes were made 1937-38, when the corner verandahs and balconies were infilled, and many further changes made up to 1948. The HMP was commissioned to confirm the cultural heritage significance of the block and its surroundings, provide policies for its conservation and set a heritage framework for future management, including new works and development.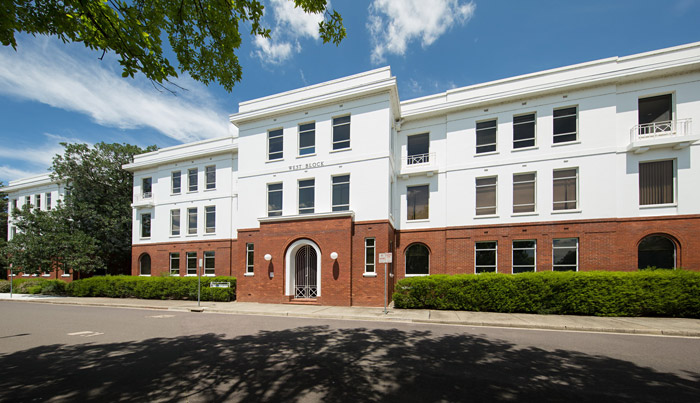 [ image: West Block as it is today : Lovell Chen ]
The presence of the former air raid shelter on the site is tantalizing. It was the focus of strategic secure communications during the war, coding and decoding cables and enabling Prime Minister Curtin to communicate directly with Winston Churchill and Franklin Roosevelt, and so is a significant remnant of wartime defences in Canberra.