MAY 2017
|
WESLEY CHURCH & MISSION VICTORIA — LONSDALE STREET, MELBOURNE

|

AUSTRALIA
The Wesley Church and Central Mission — the oldest intact church complex in Victoria — is being redeveloped as Wesley Place, a $500m project that integrates the significant heritage buildings with a new office tower and public open spaces. The development is funding conservation and adaptation works for the church and most of its satellite buildings. Lovell Chen is acting as heritage consultant, and our architecture and conservation team will undertake the heritage-related works.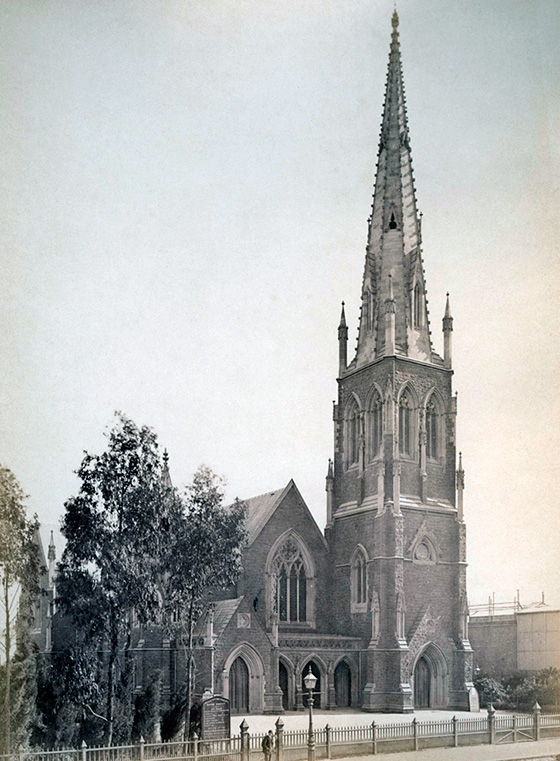 [ photo: Wesley Church, Charles Nettleton, Lovell Chen collection ]
Wesley Place will combine the restored historic church (1858), manse (1859) and school house (1859), all designed by architect Joseph Reed, and the conserved caretaker's cottage (1914) with a new office high-rise designed by Cox Architecture. The site includes Nicholas Hall (1938, architect Harry Norris) and landscaped grounds. Various structures associated with the church are to be adapted for new uses.
The bluestone church is an impressive example of the Gothic Revival style. Its spire is the oldest surviving in the state and is thought to be the earliest constructed. In the 1950s or 60s, the spire was found to be in poor condition. It was stripped of its Gothic ornament and clad in copper sheeting.