The Invention of Melbourne
AUGUST 2019
|
OLD TREASURY BUILDING, 20 SPRING STREET, MELBOURNE

|

AUSTRALIA
Now open at Melbourne's Old Treasury Building is an exhibition that explores the careers of two prominent men who had a big impact on the city — Melbourne's first Catholic bishop (later archbishop), James Goold, and the architect William Wardell, designer of St Patrick's Cathedral. The exhibition is supported by the Australian Research Council and sponsored by Lovell Chen.
James Alipius Goold (1812-1886) arrived in Melbourne in 1848, just before the start of the Gold Rush. He was a cultured man, with a collection of Baroque paintings and notable library. He became a patron of William Wilkinson Wardell (1823-1899), who arrived in 1858 and began on site with St Patrick's soon afterwards. The exhibition includes his sketches and plans.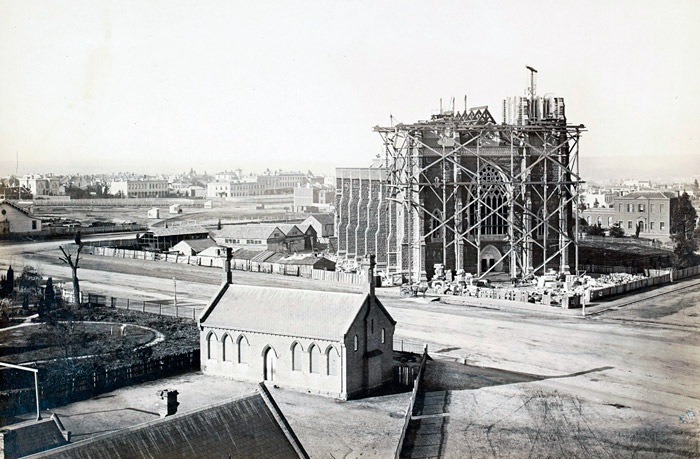 [ photo : St Patrick's Cathedral c1866, Charles Nettleton, courtesy State Library of Victoria ]
Among Wardell's other works is the Gothic Bank (completed May 1887) in Collins Street, which has been the subject of detailed conservation works by Lovell Chen, and is an ongoing project for us. It was also the subject of a paper prepared by Peter Lovell for an international symposium on Bishop Goold and his patronage, held in 2018 and organised by the Australian Institute of Art History at the University of Melbourne.
The Invention of Melbourne: A Baroque Archbishop and a Gothic Architect
Old Treasury Building, 20 Spring Street, Melbourne, Australia
1 August 2019 – 2 March 2020
www.oldtreasurybuilding.org.au
Sponsored by Lovell Chen