Adaptation project at Richmond Maltings
OCTOBER 2015
|
RICHMOND MALTINGS — GOUGH STREET, RICHMOND, VICTORIA

|

AUSTRALIA
At Richmond Maltings by the Yarra River in inner Melbourne, Lovell Chen is working on the architectural adaptation of the heritage buildings that are to be kept as part of the redevelopment of the industrial site.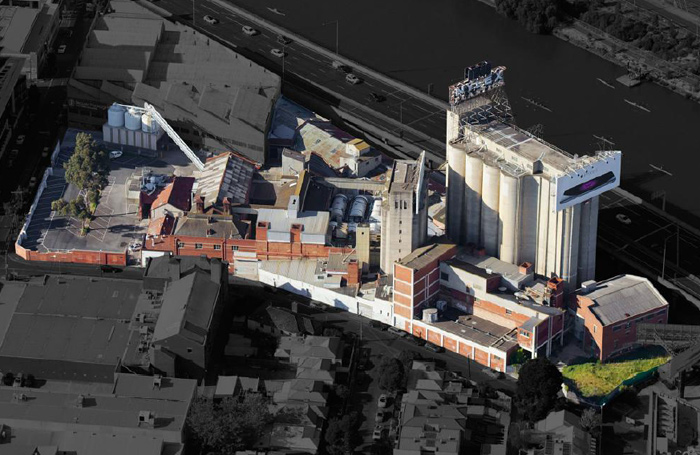 [ photo: aerial view of the site ]
A key focus of our work is the challenge of retaining various elements of the interesting machinery still in place in buildings' interiors. Among these are the iron barley germination boxes (Saladin boxes) in the former malt house, which was established in 1880 equipped with a pneumatic malting system. The Saladin boxes (pictured below) were adapted to their present form in the 1950s. The motorised spiral mechanism is a turning and raking arrangement.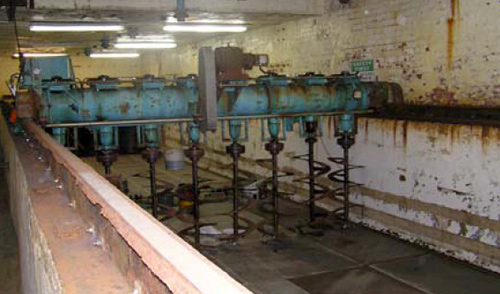 [ photo: Lovell Chen ]
The Richmond Maltings site is the oldest surviving independent malting works in the country. It has been associated with brewing and malting since 1852, and its 1880 malt house is one of the earliest pneumatic malt houses in the world, though its fabric has been altered many times since.