Regent Theatre moving forward
JULY 2019
|
COLLINS STREET, MELBOURNE, VICTORIA

|

AUSTRALIA
Big things are happening in the auditorium at Melbourne's Regent Theatre. In a project led by Lovell Chen for Marriner Group, new operating flexibility is being achieved through imaginative replanning and major structural alterations, without losing the extraordinary decorative interior.
The audience is moving closer to the stage — and being given new seating — through a 3.7m extension of the Dress Circle balcony and re-raking of the Stalls floor. And the theatre's foyer is following it forward into the rear of the Stalls, enabling bar access from the auditorium.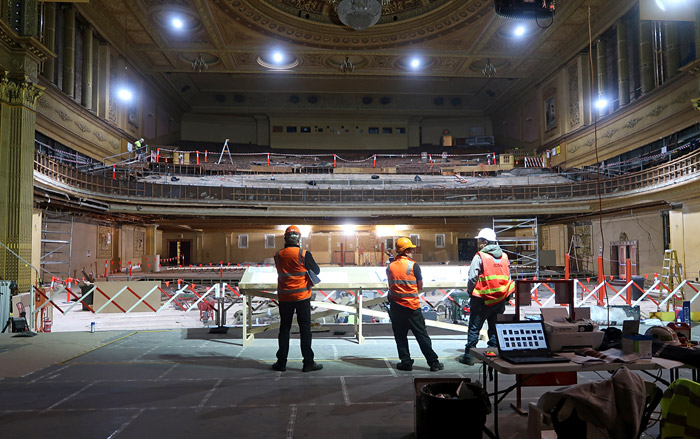 [ The auditorium form the stage, photo : Lovell Chen ]
ABOVE : The view from contractor ICON's 'control desk' on the stage, showing the existing steel Dress Circle balustrade, and floor slab just behind. The balcony structure includes a major primary composite beam spanning the auditorium (supported on columns that go all the way down to the foundations, and are set in the brick walls), plus a network of steel beams with some concrete and fire protection encasement, and the raking concrete slab. Some concrete has been removed using a robotic demolition machine to make way for the new steel structure that will support the balcony extension. Rubble created by the machine was collected on a catch deck to avoid it landing on the Stalls floor.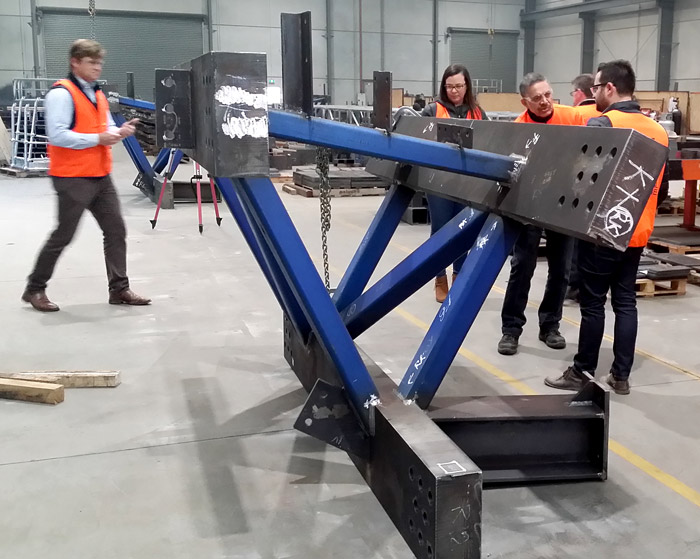 [ Truss segment in the workshop of fabricator Structural Challenge, photo : Lovell Chen ]
ABOVE : A very large segmented-curve three-dimensional steel truss will also span the auditorium, supporting the sweeping front edge of the balcony extension. Composed of 3.4m long sections, each weighing 4 tonnes, they connect together on site using 80mm thick splice plates and huge bolts. One segment is pictured here, in the Structural Challenge fabrication workshop. The blue 150mm x 300mm truss chord are solid steel.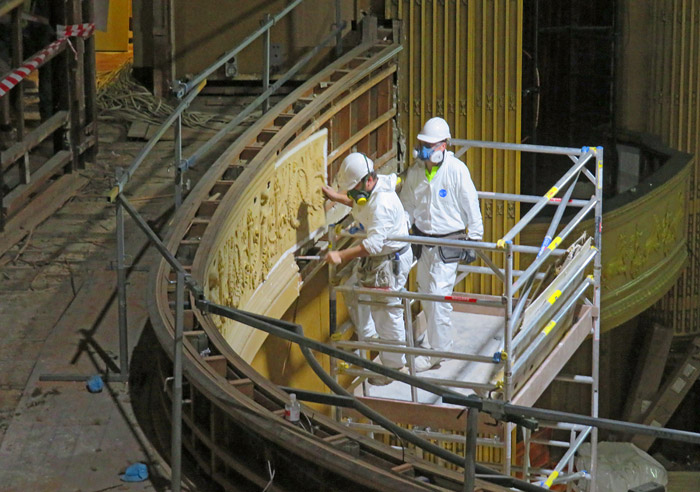 [ Removing plasterwork, photo : Lovell Chen ]
ABOVE : The moulded plaster panels from the balustrade front were carefully removed and catalogued for storage on site, along with other decorative items directly affected by the works. The panels will be reinstalled to the front of the new balustrade, and the original coving detail replicated. The under side of the balcony is to be finished in Venetian glaze plaster.

[ Stored elements on the stage, photo : Lovell Chen ]
ABOVE : The decorative elements that have had to be temporarily removed are currently stored on the stage area.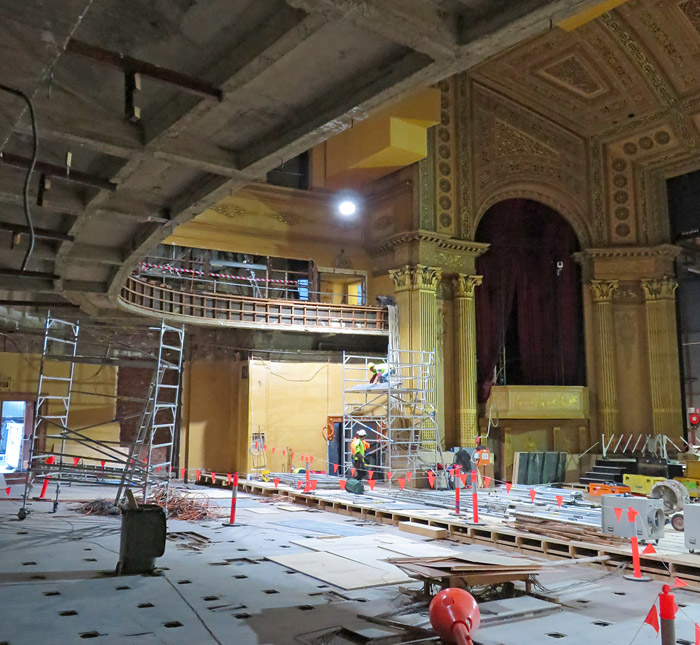 [ Stalls floor, photo : Lovell Chen ]
ABOVE : The existing floor of the Stalls is made up of a concrete slab with a raking timber floor over it, then a second floor dating from the 1990s. As part of the replanning that will enable flexible size formats for the theatre, the Stalls floor is to be raised and the rear area opened up to the foyer, giving it bar access.