Celebrations! Six promotions
SEPTEMBER 2020
|
LOVELL CHEN — ANNOUNCEMENT

|

AUSTRALIA
Lovell Chen is delighted to announce the promotions of Adam Mornement, Suzanne Zahra, Stuart Hanafin, Tina Tam, Candice Keeling and Audrey Ong in recognition of the vital parts they play in our mutli-disciplinary practice.
Adam is joining the leadership team as one of six principals. He is a major contributor to heritage projects, developing new approaches and strategic direction, and increasingly playing a part in the general debate on the future of heritage. Suzanne, architect/heritage consultant and highly regarded team leader, has been elevated to associate principal. Stuart and Tina are promoted to senior associates. They work at the heart of the delivery of major architecture and conservation projects. Candice and Audrey are promoted to associate level in recognition of their developing skills and participation in project leadership.
We are very proud of their achievements and congratulate them warmly.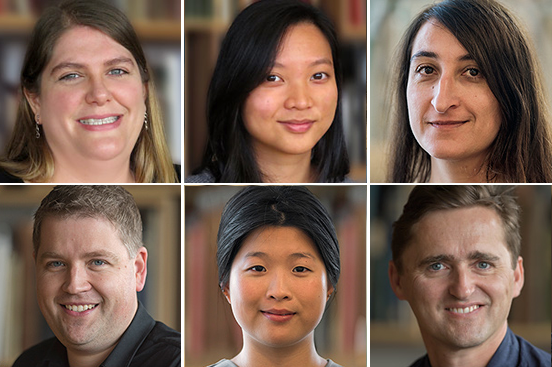 [ Candice, Audrey, Suzanne, Stuart, Tina and Adam, photos : John Gollings ]
Adam Mornement — Principal
Adam is passionate about exploring the new/emerging ways that heritage consultancy can be delivered, and tackling the issues raised by considering heritage assessment in a broader context. His recent projects include a conservation management plan developed for Melbourne's Federation Square, a heritage framework for the UTAS Domain Campus in Hobart, and co-authorship of the work underpinning the Heritage Council of Victoria's recent revisions to the VHR Criteria and Threshold Guidelines. He leads project teams, sets up and contributes to industry public forum events, and is the author of several books.
Suzanne Zahra — Associate Principal
Architect and heritage consultant Suzanne is an experienced and dedicated team leader. She often works on large-scale complex projects with a focus on infrastructure, drawing on her understanding of the breadth of issues involved in providing heritage advice and ensuring successful outcomes for adaptive reuse and/or conservation works. She provided heritage advice for our award-winning exterior conservation works at Flinders Street Station, and contributed to the ANU Acton Campus heritage framework — a re-thinking of how to approach heritage management for sites with layered heritage values.
Stuart Hanafin — Senior Associate
Stuart led the delivery team for the Melbourne Trades Hall project, recognised this year with the Victorian Architecture Award for conservation. The diversity of this project — which included meticulous restoration and reconstruction, as well as conservation, adaptation works and new architecture — demonstrated his considerable abilities. He is an architect with a particular interest in the technical aspects of built fabric, and how new and old techniques can be used together effectively.
Tina Tam — Senior Associate
Design architect Tina has also been at the heart of an award-winning project this year. She was key to the delivery of the Old Quad redevelopment at the University of Melbourne, which won the Sustainable Architecture category of the Victorian Architecture Awards. Tina is a certified Passive House designer and consultant, and is very interested in the application of Passive House principles to heritage buildings. She often works on residential projects.
Candice Keeling — Associate
Heritage consultant Candice has quickly become an essential member of the team handling statutory heritage approvals processes at Lovell Chen. She trained as an architect in her native South Africa and studied conservation in Belgium, and has demonstrated an impressive capacity for the rapid assimilation of local practices and statutory controls. As well as preparing heritage impact statements, appraisals and permit applications, she contributes to conservation management plans for places in all sectors.
Audrey Ong — Associate
Audrey is an architect, coming to Lovell Chen as an intern and returning to us full time three years ago. She is developing as a project architect and conservation specialist, working on major projects such as Government House in Melbourne, the conservation components of the soon-to-be-completed Wesley Place in Lonsdale Street, and Her Majesty's Theatre in Ballarat. Thoughtful and committed, she contributes to the scoping, documentation and administration of projects.