Princess Theatre exterior conservation
OCTOBER 2018
|
SPRING STREET, MELBOURNE

|

AUSTRALIA
Behind a swathe of hoarding on Spring Street, Melbourne's oldest theatre is undergoing extensive conservation and reinstatement works to its exuberant facade — ready for full 'curtain up' in December. The works are the latest in a series of projects at the Princess Theatre, which began in the late 1980s and included extensive investigations into the exterior and interior finishes, as well as detailed interior restoration works. The 1989 colour scheme report by Peter Lovell has been reviewed and confirmed, and now forms the basis for the present exterior reinstatement project.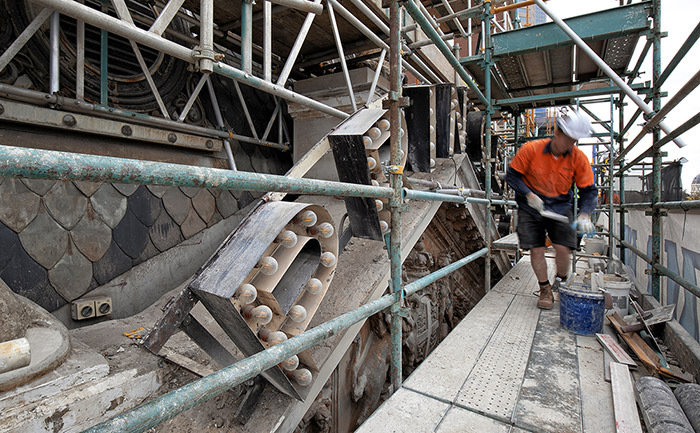 [ photo: Peter Glenane ]
The 1886 building, which was extensively remodelled externally in the early 1900s (canopy added in the 1920s), is in generally sound condition, except for localised areas of exterior render. In stripping back the facade to the render substrate, numerous different coating systems have been identified. These were removed using a paint removal poultice, which is gentler on the fabric beneath. Thrillingly, paint removal revealed a pattern of false joints in the render that were part of the original scheme but no longer discernable. Different paint systems had been used to cover repairs over the years and this is being replaced with a sympathetic paint treatment, which will once again reveal the joint-work.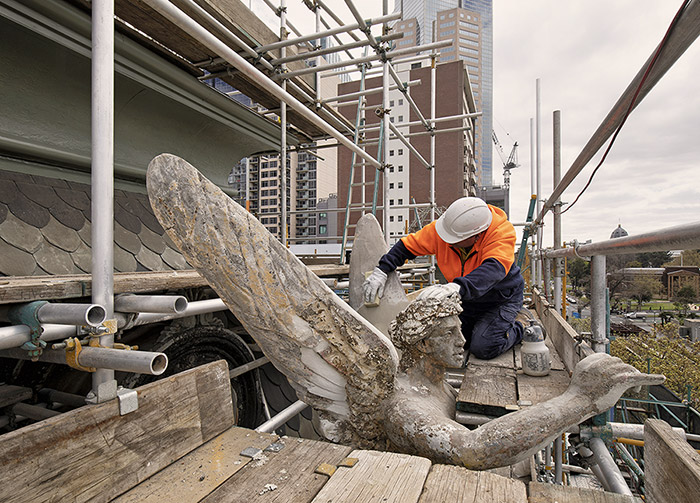 [ photo: Peter Glenane ]
Render repairs are being made to the exposed rendered facades (Spring Street and the eastern and western returns), with brickwork repairs, repointing and some brick replacement to the wall at the rear of the auditorium (Little Bourke Street). The slates and leadwork on the roof are being repaired and cleaned, and all timber elements such as joinery splice repaired and repainted. The exterior balustrading is composed of rendered brick and pressed cement: previous fibrocement repairs have been removed and new repairs made using traditional methods, followed by re-rendering. Weatherproofing works include the installation of weathering lead capping to cornices, and the repair of internal gutters, replacing rusted metal sheetwork in stainless steel. Cleaning, re-putty and minor repairs are also being made to the 1901 stained glass windows that enclose the Wintergarden.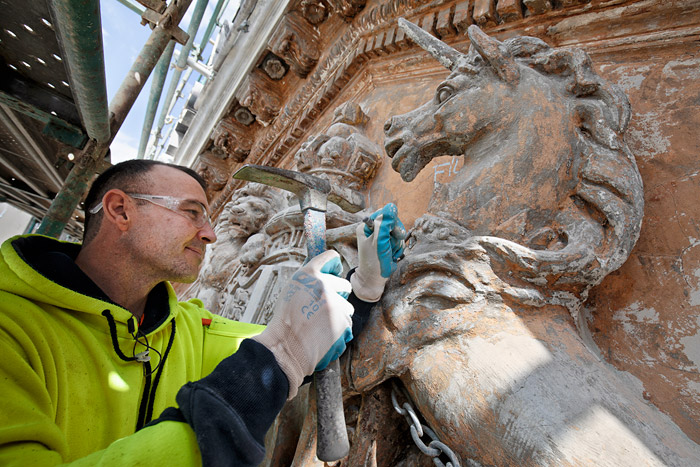 [ photo: Peter Glenane ]
The paint colours for the exterior are being restored to the 1922 scheme, with a cream buff colour to the render and pale green for the joinery and metalwork. The 1989 Lovell report has been used extensively, with new investigations confirming exact locations and specifications. Gold/silver paint with gold/silver leaf highlights, or full gold/silver leaf finish, is also being reinstated to many ornamental elements of the facade — cast ironwork, pressed cement ornamentation, lions, the royal crest and the central statue of Fame. The lions and the statue will be fully gold leafed, and the sashes of the Wintergarden windows are being painted in gold.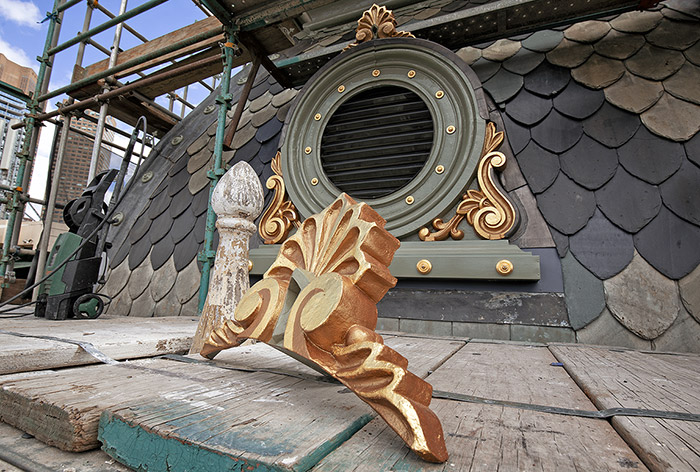 [ photo: Peter Glenane ]
Princess Theatre is owned and operated by the Marriner Group. In 2016, we completed conservation and restoration work to the Stalls Foyer.