AUGUST 2019
|
GOWER STREET, PRESTON, VICTORIA

|

AUSTRALIA
The first two stages of conservation and refurbishment works at Preston Town Hall have been completed for the City of Darebin in Melbourne's north. The project focused on the exterior fabric of the original building plus some later extensions, roof works and on the rainwater system of a 1930s wing.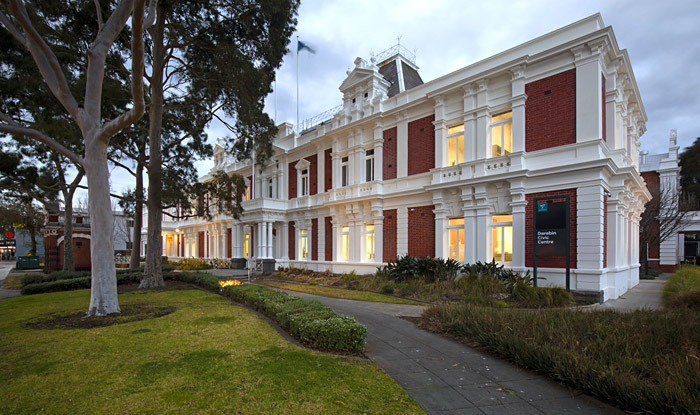 [ photo : Peter Glenane ]
The Preston Shire Council was set up 1885 following a split from Jika Jika Shire. Its new home in Gower Street was designed by Birtwhistle and Scanlon and completed in 1893, although the planned clock tower remains unbuilt. The complex was enlarged in the 1920s and 30s in a stylistically consistent way, and is now home to Darebin's Municipal Offices. The City of Darebin was formed in 1994 when Preston and Northcote merged into one local government area, so now has two historic town halls. Our staged works programme includes works at Northcote Town Hall.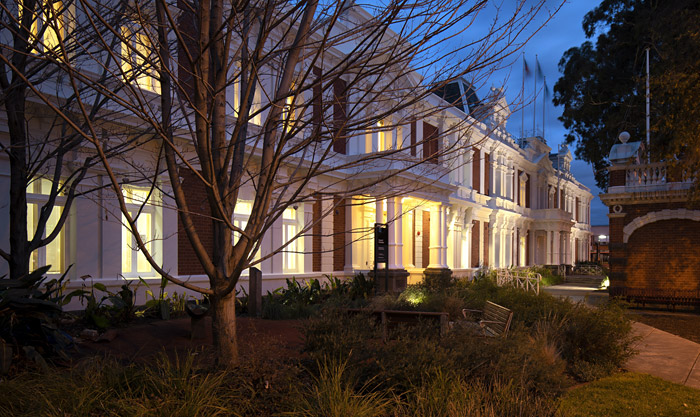 [ photo : Peter Glenane ]
At Preston, the red brick and render facades have been cleaned and the brickwork repointed. Multiple layers of paint were removed from the render and timber window joinery. The render and the windows have been repaired, followed by repainting of the facades and parapets (both sides). Damaged slates and ridge cappings on the roof of the 1893 building have been replaced, and the cast iron cresting repaired and repainted.
The south-west wing required greater capacity for its rain and stormwater systems. Adjustments to roof cladding fixings have been made to enable wider guttering, plus new box gutters, rainwater heads and downpipes have been installed. The wing's corrugated sheet roof and ridge cappings have been replaced. Groundworks to the stormwater system were also carried out.