Open House Melbourne 2020
JULY 2020
|
VIRTUAL OPEN HOUSE : 16 JULY – 31 AUGUST 2020

|

AUSTRALIA
This year's Open House Melbourne is a feast of virtual experiences. Virtual tours of 88 buildings are available from Saturday 16th July, running until the end of August. Many of the tours are immersive (and fun) virtual reality models of the buildings that have been crafted by PHORIA for Open House, and they are really worth exploring.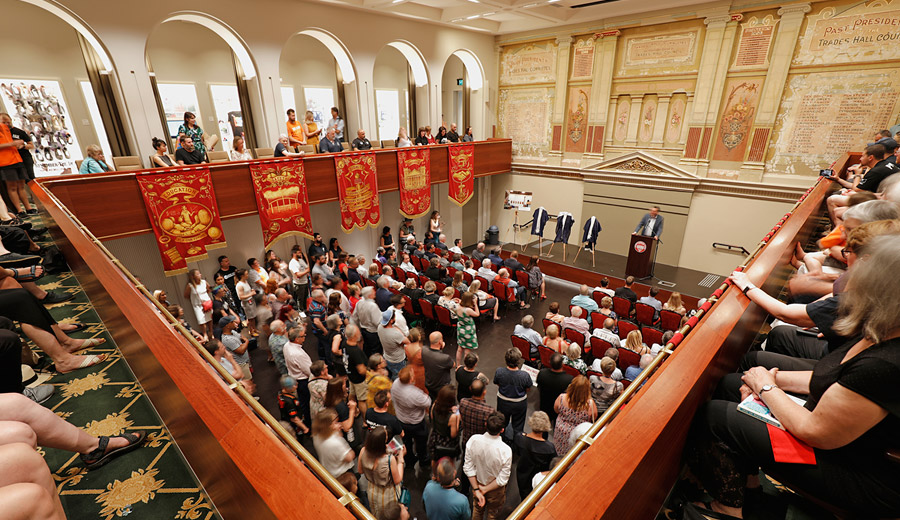 [ Solidarity Hall at Trades Hall, photo : Peter Glenane ]
You could start with the fascinating tour of the Trades Hall — well, we would say that, wouldn't we, as it's a project Lovell Chen has been working on. The award-winning works just completed focused on the main public spaces: Solidarity Hall and the Worker's Museum, the Old Council Chamber and other rooms such as the ETU Ballroom. The Open House launch was live-streamed from Solidarity Hall on 16 July. The launch video can be accessed via this YouTube channel, and the virtual tour will be available from the Open House Trades Hall page.
---
OPEN HOUSE EVENT : LOVELL CHEN LIVE Q+A
Join us for a Trades Hall presentation and Q+A on the recently-completed conservation and restoration works.
Saturday 25 July : 1pm-2pm
with senior associates Libby Blamey PHA (Vic & Tas) and Suzanne Zahra RAIA MICOMOS
Sunday 26 July : 1pm – 2pm
with associates Stuart Hanafin RAIA and Dr Felicity Strong
Go to : www.openhousemelbourne.org
---
Another one to look out for is the tour of Melbourne University's Old Quad, the first university building to commence construction in Australia. It's another award-winning project, this time for sustainability: it's the first application in the country of the adaptive reuse model PassivHaus EnerPHit to a building of state heritage significance. Old Quad is the subject of Lovell Chen principal Anne-Marie Treweeke's contribution to the 2020 Speaker Series, and you will also find that talk on the Open House website.

[ Old Quad redevelopment, photo : Eve Wilson ]
A number of other buildings and places that we are connected to are included in the list … Federation Square, for example, for which we have just completed a management framework. Buildings that have been, or continue to be, the subject of architectural or conservation works include Government House, Melbourne Town Hall, Queen Victoria Women's Centre, Werribee Park Mansion, Collingwood Town Hall, Meat Market and The Stables at the Victorian College of the Arts.
Through heritage advice, collections assessment, report preparation or infrastructure services, we are also connected to Orica House, Metro Tunnel, Parliament House, Melbourne City Baths and Jack's Magazine.
Open House has assembled a terrific list for this year, and we congratulate them on the imaginative way they have found solutions under difficult conditions. As well as building tours, they have set up some 48 online events, including talks and videos. Very well done.
Open House Melbourne 2020 : www.openhousemelbourne.org
Lovell Chen is an Open House practice partner