Old Quad Redevelopment Project
APRIL 2018
|
THE UNIVERSITY OF MELBOURNE — CARLTON, VICTORIA

|

AUSTRALIA
The University of Melbourne's Old Quad was the first university building in Australia to commence construction, in 1854. Largely used last century to house the Law School and more recently the Arts Faculty, the building's three earliest wings accommodated the University's first professiorial residences, teaching spaces and library. It is one of the campus' most significant buildings, and is currently the subject of a redevelopment project led by Lovell Chen, designed to re-establish its place at the centre of the institution's civic, cultural and ceremonial life — together with the adjacent Wilson Hall (1956).
We completed a master plan for Old Quad in 2015 from which is derived a five-stage implementation programme. Stage 1 commenced in 2016 and is under construction. The works include reinstatement of the original planning (where possible), architectural alterations and adaptation to the interiors, conservation of the fabric and details, and upgrading of all building services.
This will be the first application in Australia of the adaptive reuse model PassivHaus EnerPHit to an educational facility, and to a building of state and national significance. Taking this approach to sustainability reduces the extent of services plant infrastructure needed and therefore the space required for additonal plant.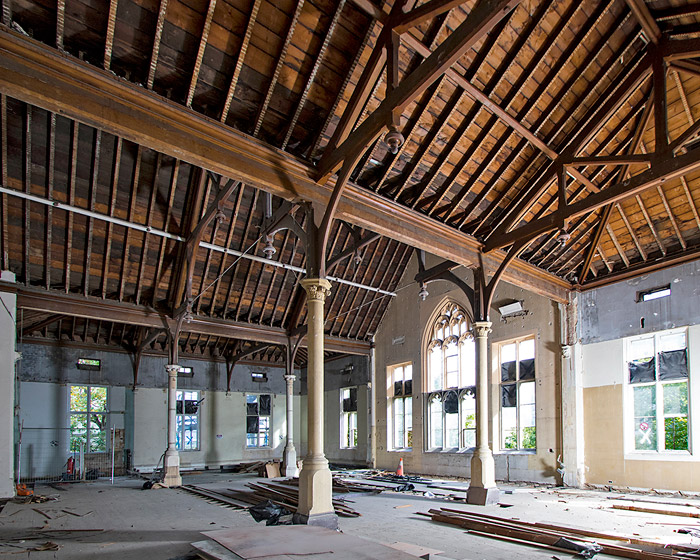 With later dividing walls and finishes removed, the impressive library space of 1875 (North Annexe) is revealed
[ photo: Lovell Chen ]
The Old Quad evolved incrementally. The first architect was Francis Maloney White (1819-1888), who planned an Oxbridge-type arrangement of cloistered wings around a quadrangle, constructed in loadbearing stone in a Gothic revival style. His East and West wings were were completed in 1857 and the North cloister (home of the first library) in 1856. The North Annexe was added 1873-5, probably to the design of Reed and Barnes. The library moved to North Annexe at that point. The east and west cloisters date from 1930, together with southward extensions to the East and West wings. In 1970, the South Wing (designed by Rae Featherstone) closed the quadrangle, housing the Council Chambers and a vaulted undercroft.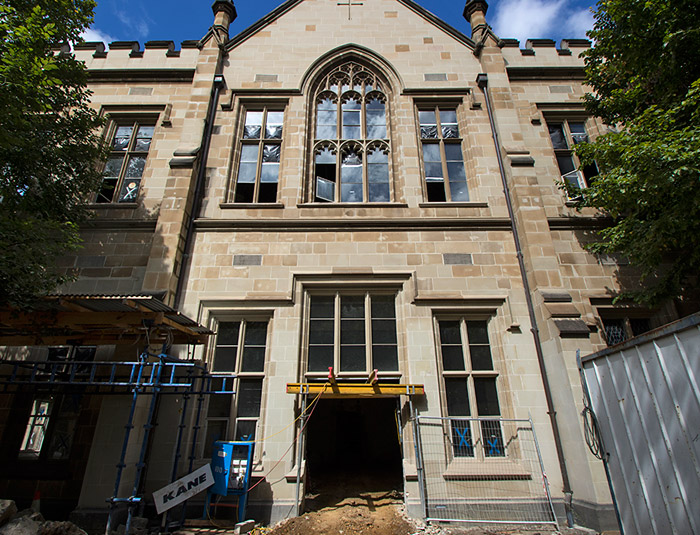 The exterior of the North Annexe
[ photo: Lovell Chen ]
The photos show aspects of the Stage 1 works, which are focused on the North Wing, North Annexe and part of the East Wing. A new entry to Old Quad is being created through the North Annexe, linking it more effectively to surrounding elements of the University at the northern end of the campus.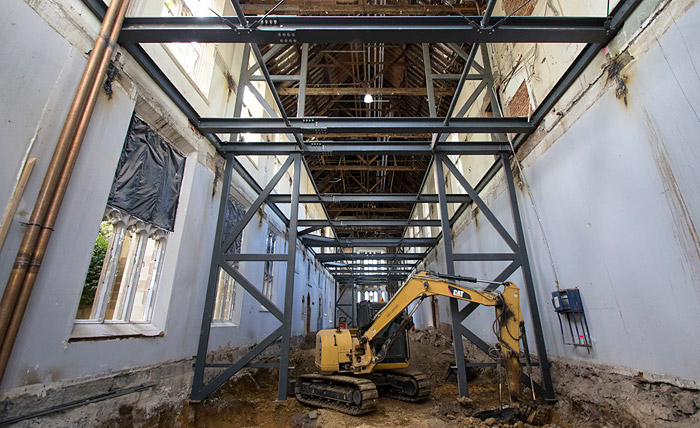 The North Wing (1856)
[ photo: Lovell Chen ]
The North Wing has seen many changes. It originally included two raked lecture theatres, with the National Museum collection in rooms at first floor level. The Council Chamber, library, examination hall, student hall, classrooms and wash rooms have all been located in this wing at various times.