CMP for the former North Park
JUNE 2019
|
WOODLAND STREET, ESSENDON, VICTORIA

|

AUSTRALIA
Among the conservation management plans recently completed by our heritage consultants for various clients is a very interesting house in Essendon, home of the St Columban Mission Society in Melbourne since 1923. The house formerly known as North Park was designed by architect Henry Hardie Kemp (1859-1946) for Alexander McCracken of the brewing family, and was completed in 1888. The McCracken family is credited with establishing Essendon Football Club and Alexander was a well known public figure — and first president of the Victorian Football League.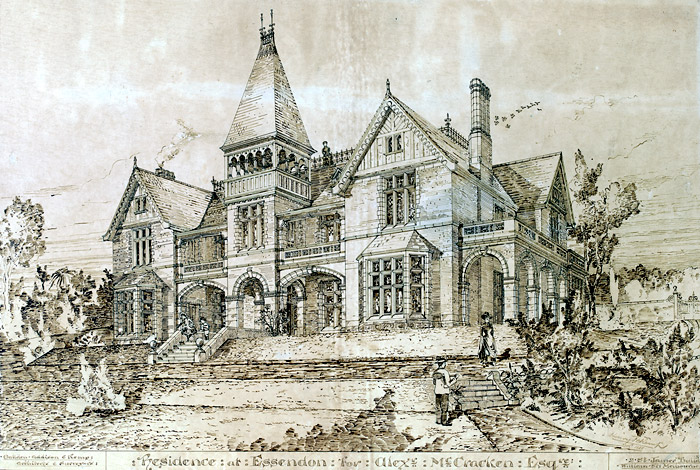 [ sketch : North Park, 1888 : courtesy State Library of Victoria ]
The house is located on the most elevated part of Essendon on what was originally a large parcel of land, long since subdivided. North Park was also the name of the first residence here, constructed after 1854 by Scots-born Dugald McPhail who was involved in the establishment of the first Presbyterian church in the suburb. McCracken acquired the property in 1887 after several other owners. Essendon saw significant growth in the Land Boom period, with the population tripling in seven years.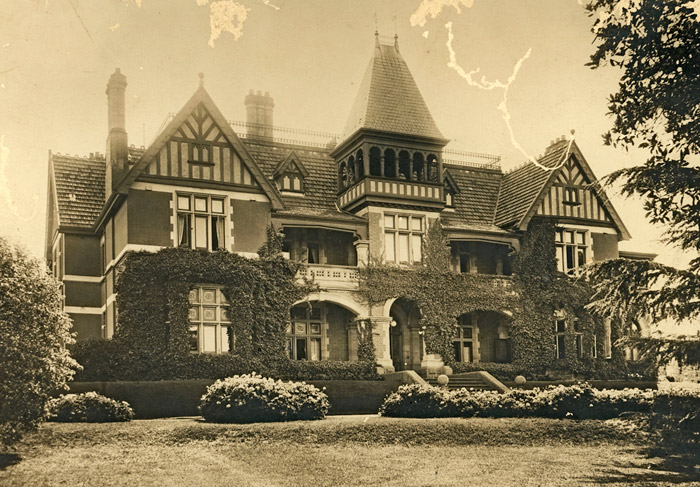 [ photo : North Park, 1924 : courtesy St Columbans Mission Archive ]
A financial windfall enabled McCracken to commission Kemp. The present building is a two-storey, 24-room Queen Anne revival mansion in brick, prominently sited facing Melbourne. It's roofed in Marseilles tiles and is claimed to be one of the first uses of them in Australia. A ballroom designed by Billing, Son & Peck was added to the south wing in 1906-7. The interiors, which are gloriously in tact, feature multi-coloured pressed metal ceilings, stained glass and window transparencies. Much of the interior decoration was undertaken in 1906 in Art Nouveau style, reflecting that style's increasing popularity in the early 20th century.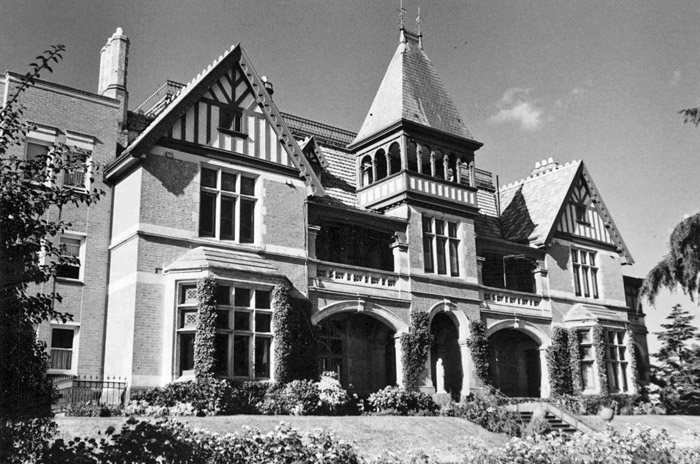 [ photo : North Park, 1975 : John T Collins, courtesy State Library of Victoria ]
Further subdivision of the site was made after 1915 when the property was sold and renamed, and again in later years after the St Columbans Mission Society acquired it. The Society was founded in Ireland with the aim of training Catholic missionaries to work in China. At North Park, it converted the ballroom into a chapel, and the house and grounds continue to be home for its priests. A new wing was added in 1966 and a three-level office building in 1968, on the site of former stables.
St Columban Mission is included in the Victorian Heritage Register. The conservation management plan assesses and documents the cultural heritage values of the site, clarifies which elements are significant and provides a policy framework that will inform and guide its management and future development.