Open House Melbourne 2022
JULY 2022
|
OPEN HOUSE : 30 – 31 JULY 2022, MELBOURNE

|

AUSTRALIA
The 2022 programme for Open House Melbourne is now available, so it's time to start planning! Presented under the banner Built/unbuilt, it's a delicious array of tours, talks and buildings. As in previous years, quite a lot of places are Lovell Chen-connected.
This year, recently-completed award-winning projects Wesley Place and Queen & Collins are open to visit, two of our projects (Mission to Seamen and Trades Hall) are venues for Open House art installations, and our historians are leading one of the walking tours …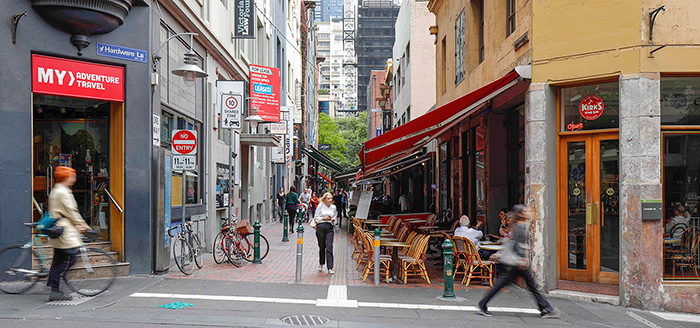 [ photo : Peter Glenane ]
GUILDFORD AND HARDWARE LANES — AN HISTORIAN'S TOUR
led by Lovell Chen
Join us on a walking tour in Melbourne's famous laneways. Lovell Chen historians Libby Blamey and Meighen Katz will focus on two laneways that are part of a precinct study commissioned by the City of Melbourne … bringing history alive as they guide you through a fascinating area, reflecting the city's early life.
Saturday 30 July : 9.30am, 11am, 1pm, 2.30pm
Go to : www.openhousemelbourne.org
---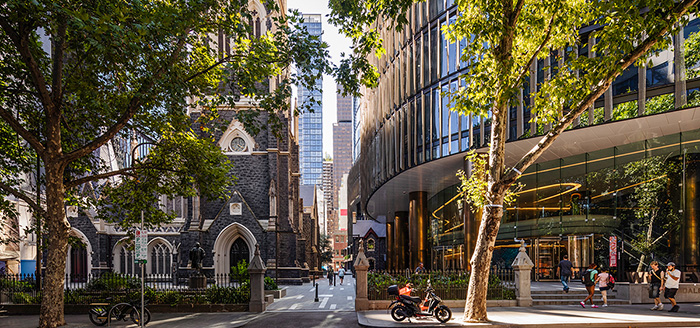 [ photo : Trevor Mein ]
WESLEY PLACE
Wesley Place, in Lonsdale Street in the city, is this year's recipient of the Victorian Architecture Awards' John George Knight Award for Heritage, plus a Commercial Architecture Award commendation. The new-build part of the project is by COX Architecture, and the developer is Charter Hall.
The precinct includes a series of significant bluestone and brick buildings: Wesley Uniting Church (1858), the Manse, Schoolhouse and Caretaker's Cottage … and landscaped public open space (designed by Oculus), which is the subject of an Open House walking tour, led by Oculus. The Church will be open on Saturday and Sunday. The new office tower can be visited as part of a guided tour, available both days.
---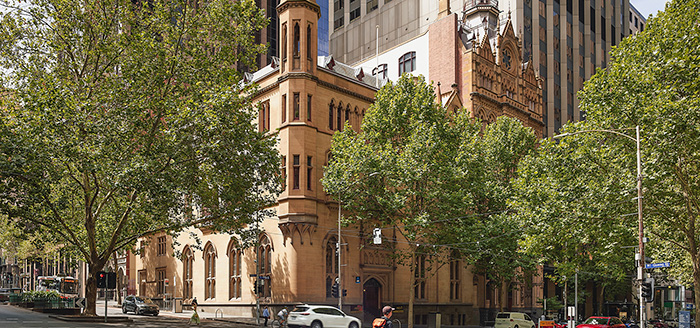 [ photo : Derek Swalwell ]
QUEEN & COLLINS
The Queen & Collins project is a redevelopment of the group of buildings known as The Gothic Bank (former ANZ Bank) in Bourke Street, where we have been providing heritage/conservation services for many years. This year, the redevelopment by KTA with BVN, again with conservation architecture and heritage services by Lovell Chen, was recognised by the Victorian Architecture Awards juries, with awards for Commercial Architecture, Urban Design and Interior Architecture.
Building tours are available on the Saturday.
---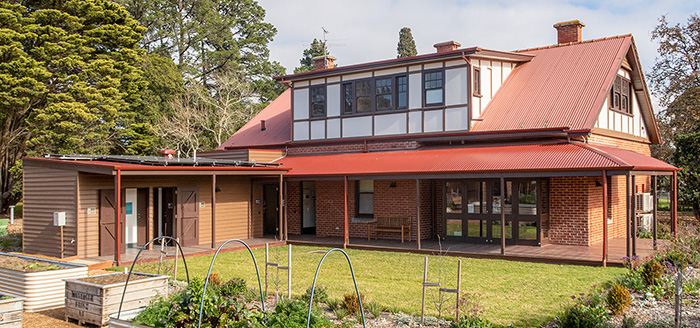 [ photo : Amanda Lee ]
BUILDING TOURS
Open House is offering building tours for a number of other Lovell Chen-connected places … including our Strathdon House & Orchard project in Forest Hill (pictured), Trades Hall, the Olderfleet building (Collins Street), behind the scenes at Federation Square, Billilla Historic Mansion in Brighton, and the Mission to Seamen building in Docklands.
Other buildings you can visit include Government House, Melbourne Town Hall, Werribee Park Mansion, Grainger Museum, Old Quad at the University of Melbourne, Young & Jackson Hotel in Swanston Street, and Jack's Magazine in Maribynong.
WALKING TOURS
Walking tours include the fascinating group of buildings at the former Pentridge Prison (see Escape to Pentridge), and Around the Block in Docklands, which includes the adaptive reuse of Goods Shed No.2.
---
AND FINALLY ….
Open House's weekend exhibition, Take Hold of the Clouds, will use two Lovell Chen-associated venues for art installations: the Trades Hall will host work by Snack Syndicate (Astrid Lorange and Andrew Brooks), and Mission to Seamen work by Ying-Lan Dann. Take Hold of the Clouds is a curated experimental project featuring low-impact installations that are independent of the fabric of the buildings that house them … More information
Have a great time!
Open House Melbourne 2022 : www.openhousemelbourne.org
Lovell Chen is an Open House major practice partner