Open House Melbourne 2021
JULY 2021
|
24-25 JULY 2021, MELBOURNE

|

AUSTRALIA
It's July … it must be Open House Melbourne time! And indeed it is — the weekend of 24-25 July is your chance to explore more of Melbourne's fantastic built heritage. All through July, OHM is hosting talks, walks, events, films and virtual tours.
---
UPDATE
Open House Melbourne has switched its programme to online events and digital tours, which are available now. For the latest information, see www.openhousemelbourne.org
---
Several of our newly-completed projects featured on this year's list. One such was Wesley Place, in Lonsdale Street — now deferred to next year's event. At Wesley Place are the Lovell Chen-restored bluestone Wesley Uniting Church (1858, Joseph Reed) and its companion buildings, now in a new urban public space landscaped by OCULUS, with a new heritage trail around the site. The conservation works were made possible by the Charter Hall development of an office tower, designed by Cox Architecture and constructed by Lendlease.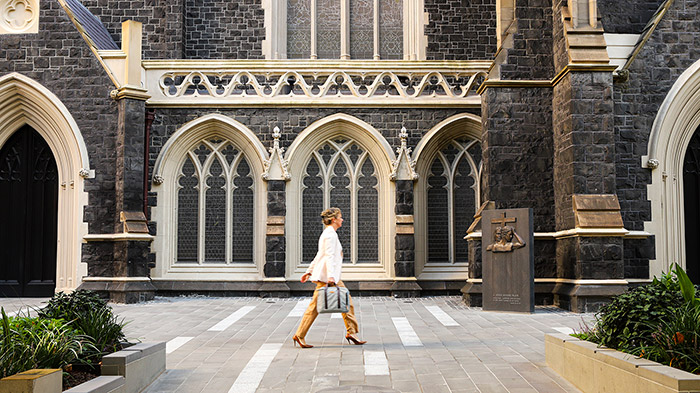 [ Wesley Uniting Church at Wesley Place, photo : courtesy OCULUS ]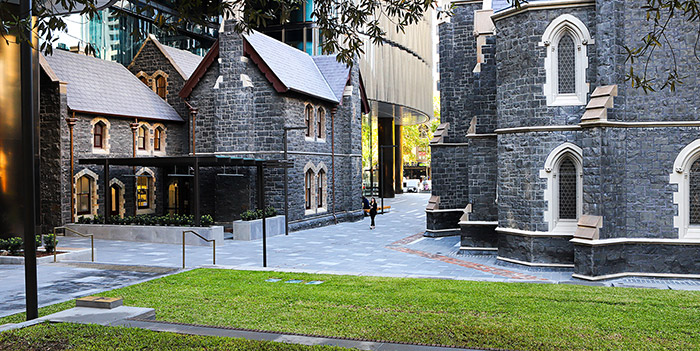 [ Conserved buildings at Wesley Place, photo : courtesy OCULUS ]
The fascinating Mission to Seamen (1916-19, Walter Butler) complex in Docklands, home to the Mission to Seafarers, is available for digital exploration. We completed conservation works in 2020, including structural repairs to the bell tower, and extensive repairs to the external textured render. Check out the domed gymnasium: it has interesting acoustic properties.
Other buildings and places that we are connected to, which were originally listed for this year (check the OHM website for latest info), include … Federation Square, for which we have prepared a ground-breaking management framework … Victoria's Government House, where we have undertaken many conservation, repair and decorative restoration projects … Tribeca in Victoria Street — a former CUB brewery building that we conserved, and which is now a housing complex — where the Brew Tower and Museum will be open … and Orica House (former ICI House) in Nicholson Street, East Melbourne.
Open House was also offering boat tours of the Port of Melbourne, with which we have a long association.
Open House Melbourne 2021
openhousemelbourne.org
Lovell Chen is an Open House major practice partner