SEPTEMBER 2016
|
MALT STORE — SWANSTON STREET, MELBOURNE

|

AUSTRALIA
Senior Associate Adam Mornement faced the cameras in episode eight of Channel 31's series Sacred Spaces, broadcast on 6 September, and now available online at www.c31.org.au. The subject of the programme is the new William Barak Building (ARM Architecture) together with the former CUB Malt Store, recently the subject of conservation and interpretation works.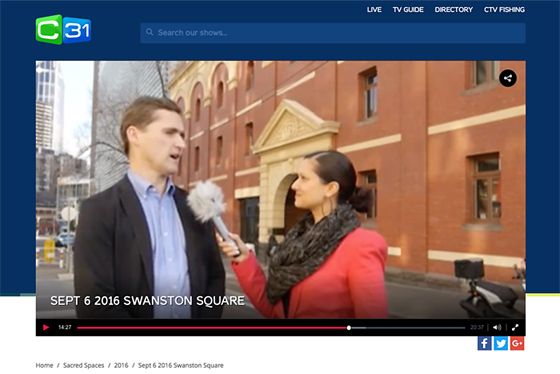 [ photo: courtesy C31 ]
Interviewer Micaela Drieberg starts the programme in the company of architect Howard Raggatt and client Daniel Grollo, Executive Chairman of Grocon, the developer of the Swanston Square project. Adam goes on to explain the history of the site and the significance of the Malt Store.
Channel 31 is the community TV channel for the Melbourne and Geelong area.