JANUARY 2018
|
VICTORIA, ACT AND WESTERN AUSTRALIA

|

AUSTRALIA
Works to landmark heritage buildings, new architecture for heritage places, and an in-depth review of approaches to the assessment and management of heritage places of social significance … just some of the new projects on our desks for 2018.
Our work at Flinders Street Station continues with the contributions we are making to the business case for the works required to make usable the interior of the long main administration building that faces Flinders Street between Swanston and Elizabeth. And, as you may have seen, the scaffolding is coming down on the exterior of the whole building, revealing the restored and repainted public facade and clock tower.
In Canberra, we are just starting on a conservation and adaptation project for commercial use of the West Block complex (1925-44) in the Parliamentary Zone. The design architect is Fender Katsalidis.
In Western Australia we are collaborating with Extent Heritage on the preparation of a heritage management plan for the UNESCO World Heritage-listed Fremantle Prison — the most intact convict prison complex in the country.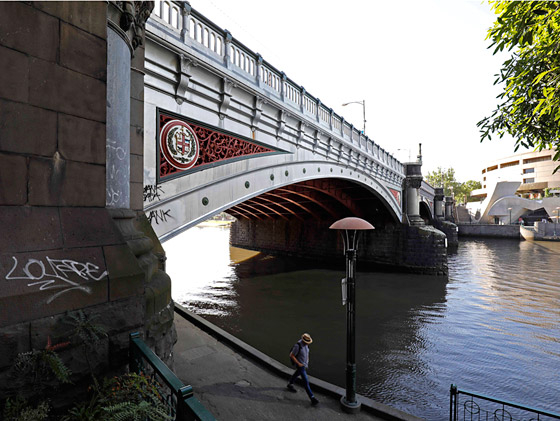 [ Princes Bridge, Melbourne … photo: Peter Glenane ]
A possible later component of the Fremantle project may involve our conservation team. But meanwhile, back in Melbourne, the team is beginning work on the next phase of the Princes Bridge project: design development and construction documentation for conservation works.
In association with the Australian Centre for Architectural History, Urban and Cultural Heritage, and again in association with Extent Heritage, our heritage team is working on a Social Significance project for the Heritage Council of Victoria. The project team is examining the concept of social value, reviewing assessment methods and the management of objects and places valued for community attachment.
For further information …. watch this space!