SEPTEMBER 2017
|
LOVELL CHEN — ANNOUNCEMENT

|

AUSTRALIA
We are very pleased to announce the promotion of seven members of staff — three to senior associate level and four to associate level. They represent all three core disciplines of the practice — architecture, heritage and conservation — and the depth of talent and experience in the Lovell Chen team. Congratulations!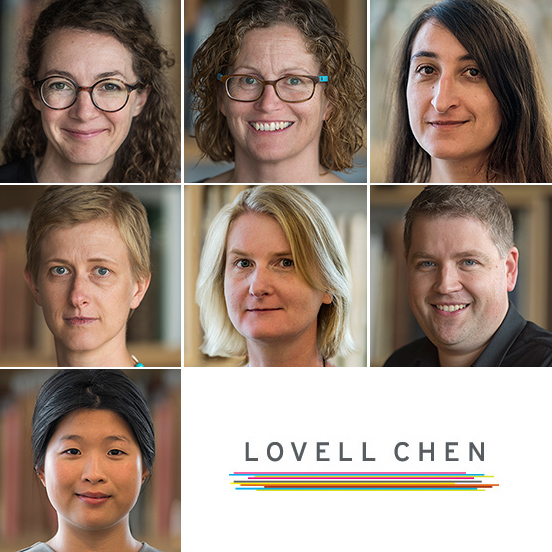 [ photos: John Gollings ]
Libby Blamey — Senior Associate
Libby is specialist historian. She joined Lovell Chen's heritage team in 2011, and her research continues to underpin much of its work. She contributes to the wide range of reports prepared by the team, and is particularly skilled in archival research, the analysis of heritage places and in cultural heritage assessment.
Deirdre Heffernan — Senior Associate
Architect Deirdre Heffernan first joined Lovell Chen in 2007, rejoining us in 2012. She plays a major role in the delivery of adaptive reuse, conservation and new build projects, focusing on design development and project management. She is skilled in technical aspects of construction, such as detailing against thermal bridges in the design of energy-efficient buildings.
Suzanne Zahra — Senior Associate
Suzanne is an architect and heritage consultant, a combination that gives her a thorough understanding of conservation issues and helps in the development of strategies for managing heritage places. She works on the heritage aspects of the adaptive reuse of large-scale complexes, and has been with Lovell Chen's heritage team since 2012.
Imke Beutmann — Associate
Newly appointed Associate Imke Beutmann joined our architecture and conservation team in 2015. She trained in Germany and is an experienced project architect. At Lovell Chen she works on all aspects of architectural, adaptive reuse and conservation projects, using her knowledge of traditional and modern building technologies.
Belinda Griffin — Associate
Belinda is an experienced architect and urban designer. Her background is in feasibility analysis, which she uses in collaborative brief development, as well as the documentation and execution of projects. She is interested in the design process and how it can achieve meaningful outcomes. She joined Lovell Chen in 2015.
Stuart Hanafin — Associate
Stuart Hanafin has been with Lovell Chen since 2014 when he graduated with a research masters degree in architecture. He works on conservation, restoration and refurbishment projects, as well as architectural adaptations, and supports our teams with specialised digital 3D modelling. He is also the practice's manager of its CAD systems.
Tina Tam — Associate
Architect Tina Tam is particularly interested in the creative resolution of design ideas into buildable solutions, and how to co-ordinate of all elements of the construction process for the best outcomes. She joined our architecture team in 2015 and works on project concept design, design development, documentation and consultant co-ordination.