Lovell Chen appoints new directors
NOVEMBER 2020
|
LOVELL CHEN — ANNOUNCEMENT

|

AUSTRALIA
Lovell Chen's founder-directors Peter Lovell and Kai Chen are very pleased to announce that principals Kate Gray and Anne-Marie Treweeke have been appointed directors.
Kate and Anne-Marie have been with Lovell Chen for most of their careers, helping shape and build the practice. Both are long-standing members of the leadership team and they bring a great depth of experience to their new directorship roles. Kate will take on director responsibility for the heritage work, and Anne-Marie will continue in her present role as practice principal, now as practice director.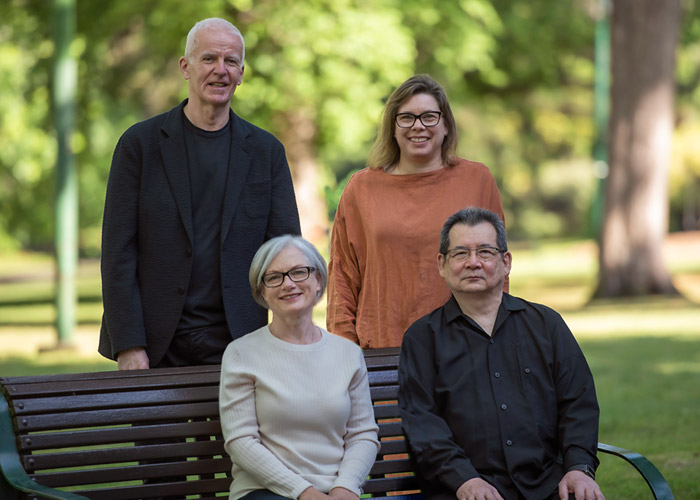 [ Our directors — Peter, Anne-Marie, Kate and Chen, photo : John Gollings ]
Kate Gray has 30 years' experience in cultural heritage management, having joined Lovell Chen in 1989. Her expertise and experience extends across the full range of heritage services, including the management of heritage places, the assessment of development and adaptation proposals, and assessments of significance at local, state and national levels. Much of her recent work has focused on providing specialist technical advice for major government infrastructure projects and the development of strategies for clients with complex or challenging assets.
Anne-Marie Treweeke is an architect, master planner and experienced contract administrator who has been with the practice since 1993. She is a skilled critical analyst with considerable insight into the way the industry operates. As practice principal she takes a progressive approach to how Lovell Chen might grow and contribute to society, and she advises on and implements the strategies developed by the leadership team. She is central to the decision-making processes of the practice, ensuring delivery of our services in architecture, conservation and heritage.
Peter and Chen recognise the commitment and dedication Kate and Anne-Marie have shown, and welcome the evolution the new appointments signify for Lovell Chen. Peter says …
"For Chen and myself, the elevation of Kate and Anne-Marie is not only about much-deserved recognition but also about the future of the practice and the next generation of leadership. In 2021, Lovell Chen will be 40 years old and this is about shaping the next 40 years."