Interpretation Australia National Conference
SEPTEMBER 2019
|
FRINGE FURNITURE 33 — ABBOTSFORD CONVENT, MELBOURNE

|

AUSTRALIA
The 2019 Interpretation Australia National Conference opens in Melbourne on 16 October, led by convenor and Lovell Chen associate, Felicity Strong.
Interpretation Australia is a not-for-profit organisation that focuses on supporting and advancing the profession of natural and cultural heritage interpretation. Felicity is the Victorian Chapter representative. Each year, IA organises a national event, this year in the shape of a three-day conference looking at sustainability in interpretation. In keeping with this theme, the conference itself is as low-waste as possible.
The Trades Hall is hosting day three of the schedule. Our architects will lead delegates on a tour of our recent work there. The tour will include the recently restored Old Council Chamber and the remodelled New Council Chamber, now known as Solidarity Hall. In the course of works in the Hall, a spectacular early 20th century mural was revealed that has been incorporated into the scheme.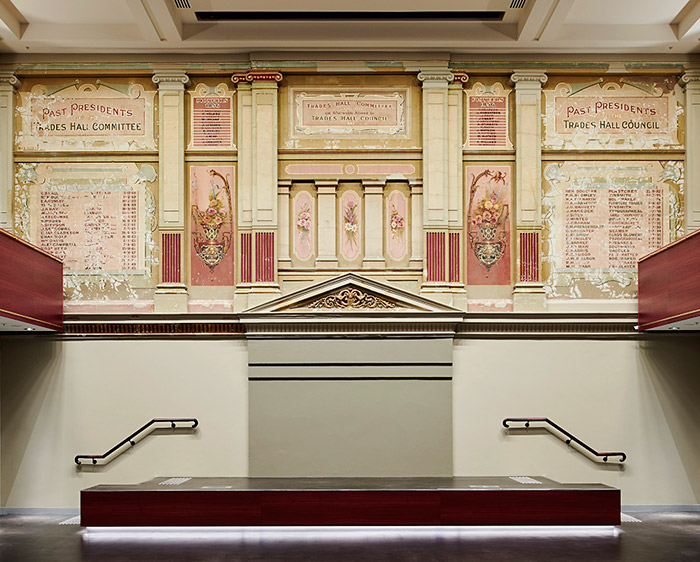 [ Mural revealed in Solidarity Hall, Trades Hall, Melbourne : photo Eve Wilson ]
Associate Michelle Bashta will contribute to a PechaKucha session, taking Interpreting Built Heritage as her subject for seven slides in seven minutes.
Interpretation Australia National Conference
Sustainable Stories : Interpreting for the Future
16-18 October 2019
various venues in Melbourne
interpretationaustralia.asn.au
Lovell Chen is a conference sponsor.