Heritage & Design webinar
MARCH 2021
|
MECCA EVENTS : TUESDAY 30 MARCH 2021

|

AUSTRALIA
Join Lovell Chen principal Anne-Marie Treweeke and associate principal Suzanne Zahra online in a CPD webinar, organised by Mecca Events, on Wednesday 31 March. The session poses the question, 'What does heritage mean in Australian design today?', and outlines the steps architects can take to achieve successful outcomes for projects with heritage contexts.
Anne-Marie and Suzanne will team up with Mat Hinds of award-winning Hobart practice Taylor + Hinds, and Toowoomba-based heritage architect Stephanie Keays. Their advice will cover topics such as how to add context and meaning to a project, how to infuse the new with the old to elicit a deeper understanding of what is significant, and technical aspects in relation to building compliance and materials choices.
Save 30% on single tickets when you book using the code LC30 … see below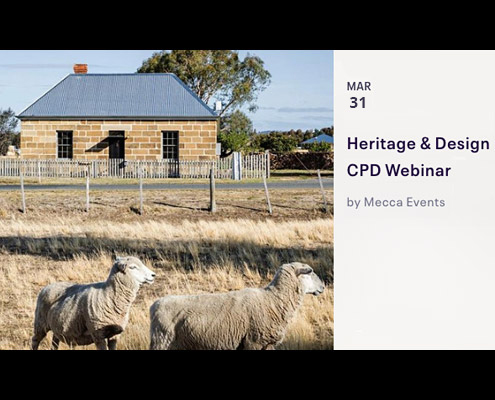 Registration is now open.
Mecca Events : Heritage & Design CPD Webinar
Wednesday 31 March 2021 : online event
Two formal CPD points
registration and tickets : www.eventbrite.com.au
Save 30% on single tickets when you book using the code LC30