Herald & Weekly Times triennial survey
JANUARY 2016
|
HERALD & WEEKLY TIMES — 46-74 FLINDERS STREET, MELBOURNE

|

AUSTRALIA
Lovell Chen's intrepid conservation team recently took to the heights in a travel tower for a two-day exterior review of the former Herald & Weekly Times building. The survey included the Exhibition and Flinders streets facades, and the rooftop "HERALD SUN" signage and radio antennas.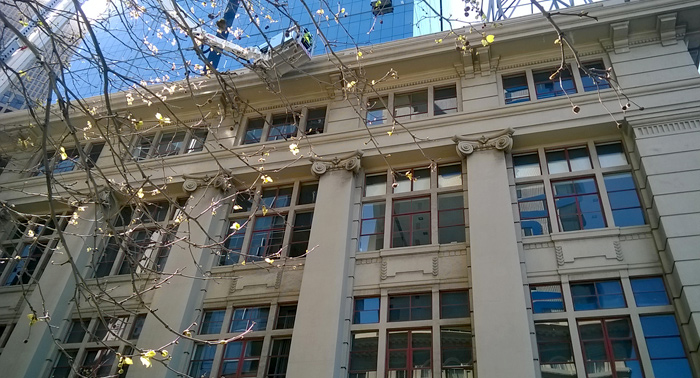 [ photo: Lovell Chen ]
The result of the survey is a report on the condition of the building and an outline of recommended works, together with a nominated timeframe for carrying them out.
Triennial conditions reporting is a requirement of the building's Heritage Infrastructure Management Plan (HIMP) prepared by the practice for Heritage Victoria as part of the application for the site's subdivision in 2005. As well as fabric maintenance, the HIMP focused on public access to interpretive material and its ongoing renewal, explaining the building's original function as a home of newspaper and magazine production.
We also completed a conservation management plan for the building in 2005.