Going up : next floor, Dome Promenade!
JUNE 2019
|
ROYAL EXHIBITION BUILDING, MELBOURNE, VICTORIA

|

AUSTRALIA
As work has progressed on our most recent project at the Royal Exhibition Building (REB), which includes the re-opening of the 360-degree Dome Promenade — last open to the public more than a century ago — research and archaeological investigations have highlighted some little-known aspects of the way the promenade operated. When the REB opened in 1880, visitors to the Melbourne International Exhibition could ascend the stairs in the West Pavilion to the see the dome: quite a hike. However, for the eight-month duration of the 1888 Centennial International Exhibition, a lift was installed, enabling more than 127,000 people to make the ascent.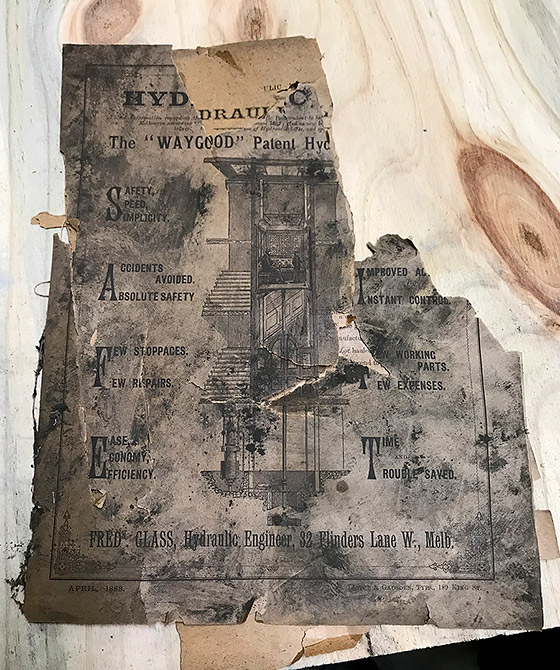 [ photo : Lovell Chen ]
The current project includes the installation of a new lift, occupying the same space as its predecessor, which was removed in March 1889 at the close of the exhibition. Investigations in the basement of the West Pavilion revealed evidence of the original 18m lift shaft carved into mudstone foundations at its foot. The shaft is 1.43m in diameter with a brick collar. A mysterious limestone artefact with a hole in the top and a metal inlet/outlet pipe was also discovered (see photo). Archaeological investigations were undertaken by Andrew Long & Associates.

[ photo : Lovell Chen ]
The original lift was installed free of charge by the Waygood & Co elevator company (later Johns & Waygood) as a working exhibit in the exhibition. It was an hydraulic Waygood Patent Balanced Lift, driven by an Otto gas engine, and ran from the ground floor to the dome parapet (base of the dome). It opened to the public on 11 August 1888, with turnstiles installed at the bottom. Adults were charged sixpence, children threepence, with everybody paying threepence after 8 September. On the lift's removal, the stairs in the tower were reinstated.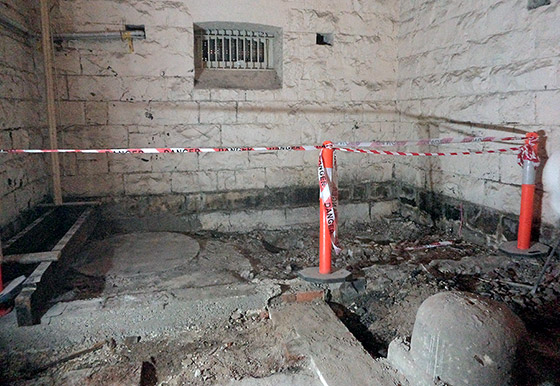 [ photo : Lovell Chen ]
Remaking the Dome Promenade involves a sequence of interventions designed by Lovell Chen. As well as the new lift, news stairs are being installed in the West Pavilion. A glazed viewing area inside at mezzanine level will be accessible from a mid-stop in the lift route. Up at dome level, a Lower Promenade deck is being installed over a section of hipped roof, connected to four Upper Promenade decks inserted between the buttresses around the dome.

[ photo : Lovell Chen ]
The Commonwealth-funded Royal Exhibition Building Protection and Promotion Project is being delivered by Museums Victoria under the governance of the Department of the Environment and Energy, Heritage Victoria and Creative Victoria. The redevelopment includes conservation works to the south facade and the dome drum.