European TV turns its lens on Melbourne
FEBRUARY 2018
|
AT ROYAL EXHIBITION BUILDING + CARLTON GARDENS — CARLTON, VICTORIA

|

AUSTRALIA
Peter Lovell is set to appear on public TV in Europe in the coming months as a contributor to an episode of the weekly magazine programme Invitation au voyage (known as City Country Culture in English) made by French/German channel ARTE. He was interviewed at Melbourne's Royal Exhibition Building, where he was quizzed on the influence of English Victorian-era architecture on the development of the city, and about the REB itself as well as its architect, Joseph Reed.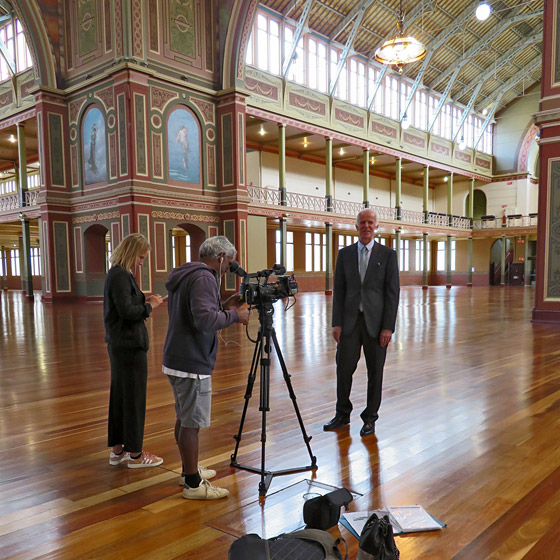 [ photo: Brigitte Samwell, Lovell Chen ]
The 40 minute programme covers three diverse locations around the world each week, and is broadcast mainly in French. The Melbourne segment looks likely to include the REB and Carlton Gardens, St Paul's Cathedral, the State Library of Victoria and parts of St Kilda. As yet the transmission date is unknown … so, one to watch out for.
JUNE UPDATE
The programme, Melbourne, So British! is now available online …
https://www.arte.tv