Dulux Colour Awards 2020 finalist
MARCH 2020
|
TRADES HALL — VICTORIA STREET, CARLTON, VICTORIA
|
AUSTRALIA
We are very pleased to announce that the Lovell Chen-led project to conserve and restore the Old Council Chamber at Melbourne's Trades Hall has been named a finalist in this year's Dulux Colour Awards.
The Old Council Chamber has been shortlisted in the Commercial Interior – Public and Hospitality category: the full list is available here. The Trades Hall was begun in 1874, evolving in more than 10 stages. The council chamber dates from 1884, and seated 127 people arranged in tiers. Its spectacular colourful decorative scheme — evident in old photographs but later completely overpainted — was the work of C.S. Paterson Brothers.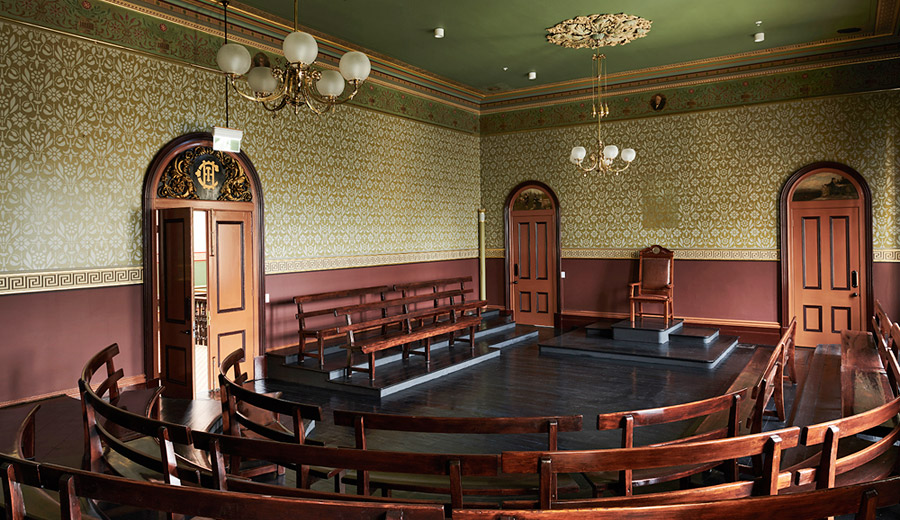 [ Trades Hall Old Council Chamber, Melbourne, photo : Eve Wilson ]
The finishes investigation was carried out by Grimwade Centre specialists, identifying the 1880s paint layers and likely extent of surviving elements. Following consultations, a restoration strategy was developed that combined reconstruction of the overall scheme and conservation of intact areas. Two of the four portraits that were known to have been a feature of the upper wall scheme were found to be still in place.
The project used Porter's Eggshell paint system, Porter's Enamel and Dulux Super Enamel, as well as specialist retouching paints. Eggshell Acrylic was selected for its matte finish — a close match to the original.
The Old Council Chamber works were funded as part of a grant from the state government's Living Heritage Program.