MAY 2019
|
FLINDERS STREET, MELBOURNE, VICTORIA

|

AUSTRALIA
Our work on the exterior of Melbourne's Flinders Street Station has been recognised in the Dulux Colour Awards 2019. At a gala event on 8 May at the National Gallery of Victoria, the project was announced as winner in the Commercial & Multi Residential Exterior category.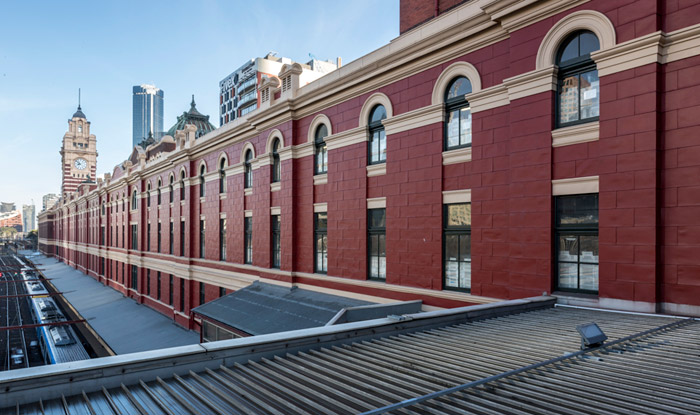 [ photo : Martin Leitch ]
Judge Matt Gibson commented: "Extraordinary investigation and science went into the paint choices here, with the architects undertaking extensive research into the original colours since the late 1970s. In fact, the rigour with which the paint scheme was established is the real story behind this project, with three new Dulux colours being created as a result. The Station's historic significance and the public's attachment to it necessitated an outcome that restored the integrity of the original design, and that has been done in an impressive and honourable fashion."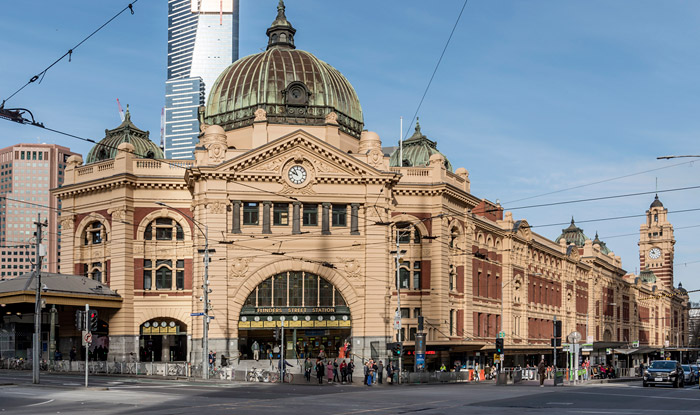 [ photo : Martin Leitch ]
In 2018 we completed the first phase of a Development Victoria revitalisation project at Flinders Street Station. The huge complex remained operational throughout the State Government-funded works, of which a key conservation outcome was the implementation of an as-close-as-possible return to the original 1910 colour scheme. Paint analysis was carried out in conjunction with the Centre for Cultural Materials Conservation at the University of Melbourne. Our report on these investigations, and on heritage considerations, became the basis for high level decision-making. Once the choice to return to the original scheme was made, the Munsell values of the three colours identified were sent to Dulux for matching.
More on Flinders Street Station exterior works >