ACAHUCH + AIA discussion panel
AUGUST 2020
|
15 SEPTEMBER ON ZOOM

|

AUSTRALIA
Now open for registration … an online discussion between ACAHUCH, the AIA and four winners of AIA Awards this year, in the Heritage and Advocacy categories: KTA, Six Degrees, Citizens for Melbourne and Lovell Chen. Peter Lovell will speak on behalf of our award-winning teams.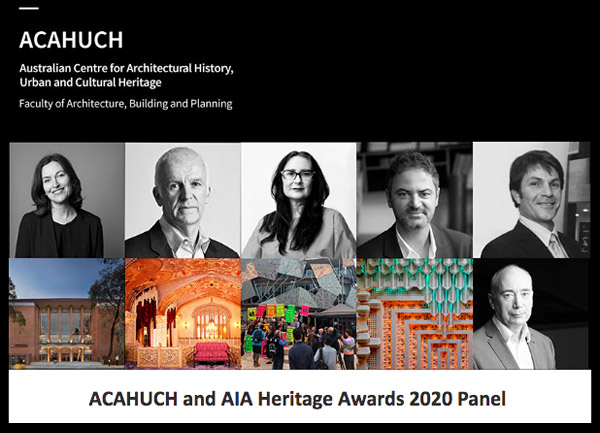 ACAHUCH (Australian Centre for Architectural History, Urban and Cultural Heritage) invites you to join Professor Philip Goad (Co-Director of ACAHUCH and Melbourne School of Design Chair of Architecture) and Roger Beeston (Chair of the AIA Heritage Architecture panel) in discussion with AIA 2020 award winners in the categories of Heritage and Advocacy — Kerstin Thompson, Tania Davidge, Peter Malatt and Peter Lovell.
Panellists will discuss their winning projects, the process the AIA takes in adjudicating these awards, and share their thoughts on current issues in heritage, conservation and renewal. This will be followed by an open discussion and the opportunity for questions from audience members to panellists.
Registration : nvite.com
ACAHUCH : acahuch.msd.unimelb.edu.au
Lovell Chen won three awards in this year's AIA Victorian Architecture Awards. The Trades Hall project won in the Heritage Architecture – conservation category, the Regent Theatre project in the Heritage Architecture – creative adaptation category, and the Old Quad redevelopment was given a Sustainable Architecture award. The Old Quad project is the first application in Australia of the adaptive reuse model Passivhaus EnerPHit to a building of state significance.