Conservation work on Bouverie Street
MARCH 2016
|
CARLTON UNITED BREWERY — 2-76 BOUVERIE STREET, CARLTON, VICTORIA

|

AUSTRALIA
The long bluestone facade of the former Carlton & United Brewery building on Bouverie Street has been retained as part of the Swanston Square project now taking shape. Lovell Chen has been working on the conservation of the facade's stonework.

[ photo: Andrew Latreille ]
The handsomly detailed facade was constructed in four stages between 1864 and 1927, reflecting the rapid growth and constant change in Victoria's brewing industry. Brewing ceased on the whole site in 1987 and most of the buildings — except this one and the Malt House on Swanston Street — were demolished in the 1990s. Remnants of the former Board Room in the Bouverie Street building also remain. Casts have been made of its cornice mouldings for future reference.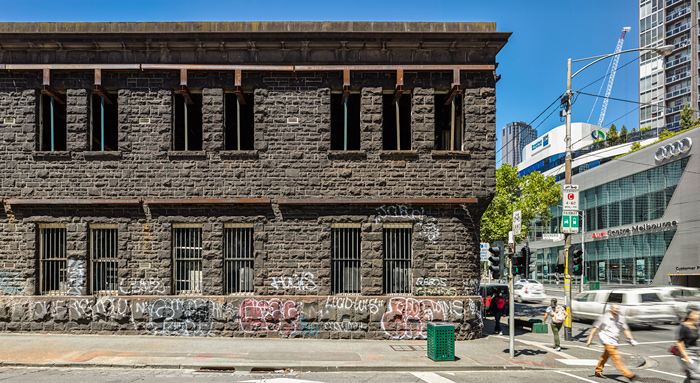 [ photo: Andrew Latreille ]
The building's roof is being reinstated, and the proposed new tower for the site will have an independent structure, penetrating the roof as necessary. The Bouverie Street building will house retail spaces at ground level, entered from Victoria Street through a section of brickwork facade that will also be reinstated.