NOVEMBER 2020
|
CITYTALKS HOBART : MONDAY 16 NOVEMBER 2020

|

AUSTRALIA
Join our principal and founder Peter Lovell in Hobart's first CityTalk online webinar, on Monday 16 November at 6pm. The panel's topic is Power of Preservation – the economic value heritage creates for Hobart. Registration is now open, and proceedings can be watched live on YouTube.
Peter's fellow contributors are global expert in heritage economics Donovan Rypkema (president, Heritage Strategies International), and architect Lucy Burke-Smith (associate, Purcell). Led by moderator Cr Anna Reynolds (Lord Mayor of Hobart), they will discuss the value of Hobart's heritage and how the reuse of buildings and protection of streetscapes is a smart way for the city to develop.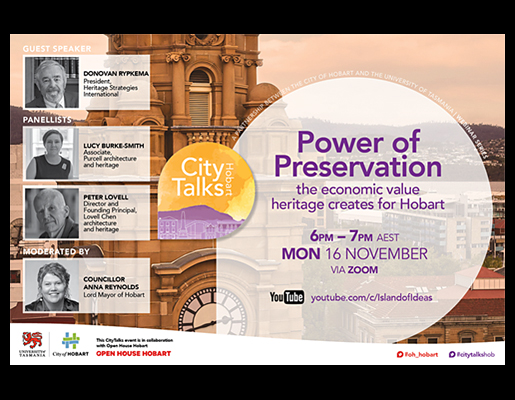 The CityTalks online series of webinars and public talks is a new initiative, aimed at sparking ideas and innovation. It is presented by City of Hobart and University of Tasmania, in collaboration with Open House Hobart.
Hobart CityTalks 2020
Monday 16 November : 6pm – 7pm : via Zoom
registration : https://www.utas.edu.au
information : www.hobartcity.com.au/Community/Events-and-activities/
watch live : youtube.com/c/IslandofIdeas
Hobart CityTalks : www.hobartcity.com.au/Community/Events-and-activities/CityTalks-Hobart