"And they're off!" at Sandown
AUGUST 2019
|
PRINCES HIGHWAY, SPRINGVALE, VICTORIA

|

AUSTRALIA
Our heritage team has completed a conservation management plan for Sandown Racecourse, renamed Ladbrokes Park in 2016. The site in outer Melbourne has a long and complex history, and one outstanding structure — its 300m-long late-Modernist concrete grandstand, designed by Bogle & Banfield, engineered by Irwin Johnston & Partners and completed in the early 1960s.
The grandstand has recently been added to the Victorian Heritage Register for its aesthetic and architectural significance to Victoria.

[ The new grandstand, 1962, photo : Wolfgang Sievers, courtesy State Library of Victoria ]
The CMP covers the whole of the Sandown site and includes a summary history of its evolution, a physical survey and analysis, an assessment of the heritage significance of the place, a revised statement of heritage significance for the grandstand, an outline of the opportunities and constraints afforded by the site in terms of development, and a conservation policy with recommended approaches to management.


[ The first motor race in Australia, 1904, photos : Darge, courtesy State Library of Victoria ]
The racecourse was established in 1888 as Oakleigh Park Racecourse — with four grandstands. The first car race in Australia was held at the track on 12 March 1904. However, Sandown (the new name dates from 1891) closed in 1931 following state government legislation to limit the number of racecourses. After 1956, the site was redeveloped as a combined horse racing and motor racing venue.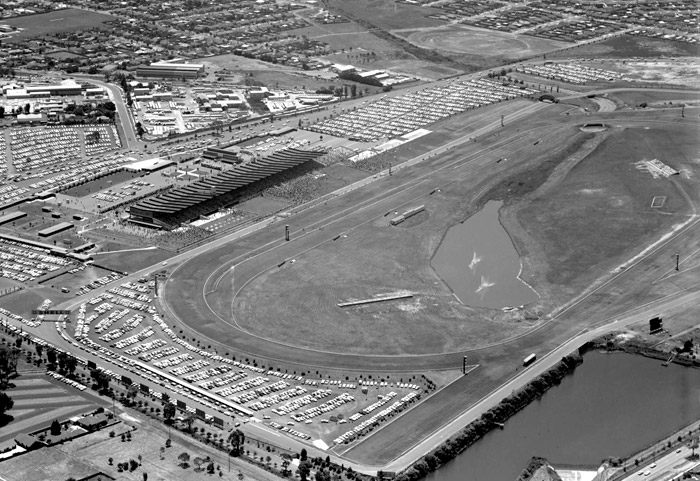 [ Sandown Park, 1969, photo : courtesy State Library of Victoria ]
New facilities were constructed, with a new racecourse (1958, designed by H.W. Wagstaff) followed by an outer circuit for motor racing (1962). The huge grandstand was part of the new works, along with betting areas, stabling and car-servicing pits. After the opening, the press reported that "Sandown Park was the last word in racecourse planning".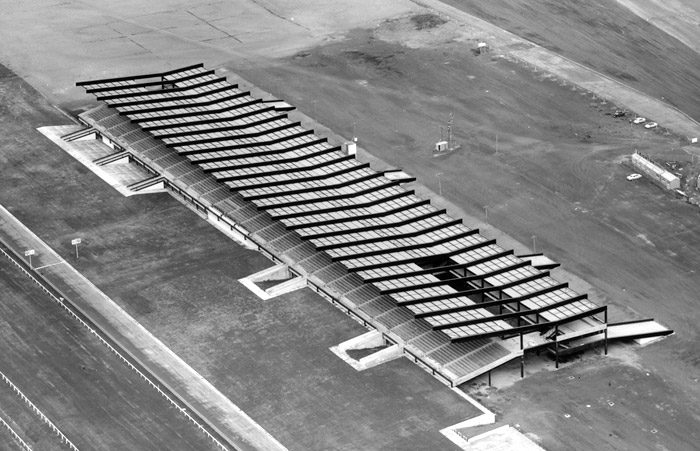 [ The grandstand, 1963, photo : Lyle Fowler, courtesy State Library of Victoria ]
The new grandstand marks a shift in the design of trackside viewing structures, focusing on providing views down the home straight rather than over the winning post. In its initial form, it was 27 bays and 250m in length, extended by Reg Grouse Architects in 1976. Distinguished by its precise articulation and cantilevered roof, the grandstand is substantially intact, and the dynamism and daring of the original design remains easily appreciated.