ACT Law Courts redevelopment
JUNE 2016
|
ACT LAW COURTS — CIVIC, CANBERRA, ACT

|

AUSTRALIA
Working with project architect Lyons under the ACT's first public-private partnership, Juris Partnership, Lovell Chen is providing heritage, conservation and interpretation services for the new justice precinct now under construction in Canberra.

[ photo: Lovell Chen ]
The precinct known as the ACT Law Courts, and will integrate the existing Supreme Court building (1962) with the Court of Appeal, the Magistrate's Court and the Children's Court.
The Supreme Court was designed by Yuncken Freeman Brothers Griffiths & Simpson, and is a rare example of a building erected in the location intended for it by Walter Burley Griffin in his 1911 competition entry for the new federal capital.
Designed in Late Twentieth Century Stripped Classical style, the building is intended to be viewed in the round. It is raised on a podium and located on a planning axis integral to its design, which includes a central oval-shaped glazed courtyard — the transparency of the law at the heart of the building.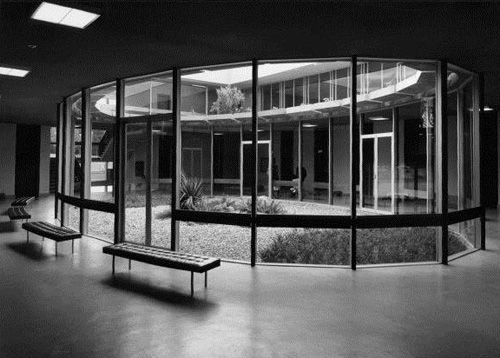 [ photo: courtesy National Library of Australia ]
The Supreme Court will be integrated into the ACT Law Courts precinct through enclosure of its east wall in a new wing, incorporating the wall into an internal full-height space. The new wing will face Vernon Circle, and continue to express the planning axis.
Lovell Chen is providing heritage advice on the building's adaptation, and has prepared a heritage impact statement, a condition report, an interpretation plan and conservation works documentation. The new building is due for completion in November 2017, at which time the refurbishment works will commence.